Jak wygląda proces tworzenia aplikacji mobilnej?

5 kwietnia 2023
Skuteczne narzędzia cyfrowe są wynikiem ściśle określonych działań i synchronizacji pracy wielu specjalistów. To bardzo dokładny proces, w którym każdy — najmniejszy nawet etap — ma kluczowe znaczenie dla powodzenia całego przedsięwzięcia. Dlatego warto powierzyć to zadanie profesjonalistom. Jak zatem powinien wyglądać cały proces tworzenia aplikacji mobilnej, tak by odniosła sukces rynkowy? To określone etapy, które przedstawiamy poniżej.
1. Określenie celu aplikacji mobilnej
Profesjonalne projektowanie aplikacji mobilnych rozpoczyna się na wiele etapów przed rozpoczęciem kodowania. Jednym z ważniejszych działań jest bardzo precyzyjne określenie celu aplikacji, czyli ustalenie tego, jaki problem biznesowy powinna ona rozwiązywać.
Istnieje bowiem wiele rodzajów aplikacji biznesowych, z których jedne bezpośrednio generują zysk, stanowiąc źródło nowych zamówień, inne skupiają się na budowaniu wizerunku marki, budowaniu lojalności klientów czy wspieraniu swoich pracowników.
To bardzo ważne, by zleceniodawca dokładnie określił przeznaczenie swojego rozwiązania już na tym etapie. Dzięki temu, profesjonaliści zaprojektują skuteczną aplikację mobilną, która rzeczywiście będzie realizowała wyznaczone cele, zapewniając firmie szereg korzyści.
2. Dokładne rozpoznanie potrzeb przedsiębiorstwa
Specjaliści rozpoczynają tworzenie aplikacji mobilnej od dokładnego zapoznania się z charakterem prowadzonej działalności, branży i wyzwań danego przedsiębiorstwa. Planowanie działań jest ściśle powiązane z pozyskaniem wiedzy na temat potrzeb rynku. Im dokładniej aplikacja mobilna będzie korelowała z założeniami strategii marketingowej, tym lepiej spełni swoje zadania, realizując długoterminowe cele biznesowe.
3. Analiza aplikacji mobilnych w branży
W procesie tworzenia aplikacji mobilnych konieczne jest przeanalizowanie rozwiązań już dostępnych w branży. Warto zbadać, jakie obecnie panują trendy i które funkcjonalności będą najważniejsze dla przyszłych użytkowników. Weryfikując podobne programy, łatwiej jest zaprojektować taką aplikację, która będzie się wyróżniała na tle konkurencji.
Powyższe pierwsze trzy kroki objęte w zestawieniu mają ogromne znaczenie z punktu widzenia sukcesu całego projektu. To etap, który pozwala dokładnie rozpoznać potrzeby firmy, co jest niezbędne do tego, by stworzyć skuteczną aplikację mobilną, realizującą określone cele i odpowiadającą na problemy klienta.
Dlatego niezbędnym etapem w procesie projektowym jest przeprowadzenie warsztatów produktowych, czyli spotkania dwóch stron (zleceniodawcy i zleceniobiorcy), podczas których zostaje dokładnie określony kontekst biznesowy przedsięwzięcia, a także doprecyzowane są zadania i cele aplikacji. Określamy pierwszą minimalną wersję programu MVP (Minimum Viable Product), czyli taką opcję, która ma już sens biznesowy, ale nie jest jeszcze bardzo rozbudowana. Dzięki niej klient może oszczędzić pieniądze i czas — aplikacja jest możliwie szybko wprowadzona na rynek.

Dopiero po zakończonych warsztatach, przychodzi czas na właściwe projektowanie aplikacji, które również składa się z wielu mniejszych etapów.
4. Prototypowanie metodą Design Thinking
Wyniki przeprowadzonych analiz stanowią dobrą bazę do dalszych etapów procesu. Dzięki nim firma realizująca projekt ma podstawy do tego, by stworzyć rozwiązanie skuteczne dla firmy i atrakcyjne dla użytkowników. Mając w ręku tak cenną wiedzę, można przystąpić do projektowania. To czas pierwszej weryfikacji pomysłu. Im szybciej do niej dojdzie, tym łatwiej będzie można dostosować aplikację mobilną do rzeczywistego zapotrzebowania rynku. Z tego punktu widzenia, bardzo korzystne dla efektu finalnego, jest prototypowanie metodą Design Thinking. 
Wśród jej licznych zalet warto wyróżnić włączanie użytkowników do procesu tworzenia. To podejście implikuje stworzenie aplikacji nastawionej na odbiorcę. A to jest podstawą sukcesu. Bardzo szybko — już na wstępnym etapie projektowania — przeprowadzane są testy na małej grupie odbiorców, którzy opiniują nowe rozwiązanie. W ten sposób firma bardzo szybko może wprowadzać modyfikacje, unikając radykalnych zmian dopiero na etapie końcowym. Takie drastyczne przeformułowanie gotowego rozwiązania generowałoby znacznie większe koszty.  Natomiast w przypadku decyzji o pozostawieniu aplikacji bez żadnego dostosowania do potrzeb jej adresatów, szanse na sukces wielokrotnie spadają.
5. Projektowanie interfejsu użytkownika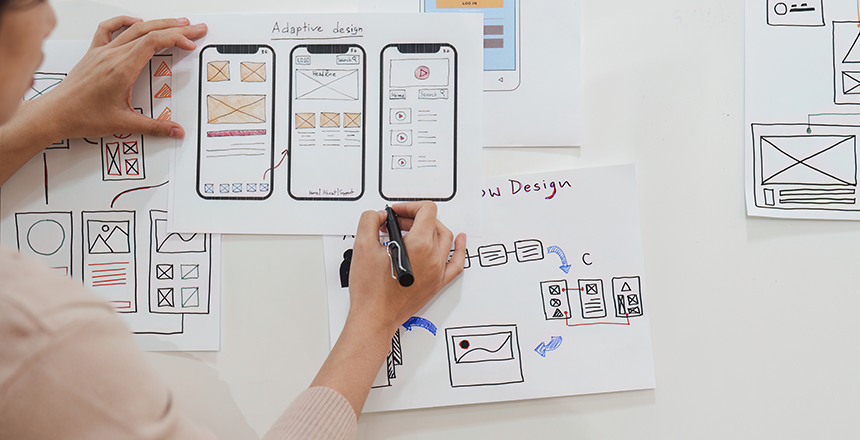 Układ strony, wygląd, kolorystyka, grafika, czy animacje mają niebagatelny wpływ na pozytywny odbiór nowego rozwiązania. Powinny być one dobrze dopasowane do oczekiwań użytkowników, dlatego tak ważna jest ich precyzyjna identyfikacja na wcześniejszych etapach procesu tworzenia aplikacji mobilnej.
6. Programowanie i stała współpraca z klientem podczas tworzenia aplikacji mobilnych
Dobra aplikacja mobilna to taka, która odpowiada zarówno na potrzeby jej użytkowników, jak i spełnia cele biznesowe firmy. Dlatego tworzenie aplikacji mobilnych powinno odbywać się przy aktywnym udziale zleceniodawcy. Profesjonaliści zapraszają klienta do testowania aplikacji podczas całego jej procesu tworzenia, dzięki czemu powstaje rozwiązanie idealnie dopasowane do charakteru branży i potrzeb odbiorców.
Intuicja oraz doświadczenie uzyskane w danym sektorze to bezcenne składniki powstania najlepszego rozwiązania. I to one, obok fachowej wiedzy technicznej specjalistów, pozwalają stworzyć atrakcyjne i skuteczne programy.
Jak to można wykonać w praktyce? Oprócz dobrej wymiany informacji na etapie rozpoznania potrzeb, ważna jest też nieustanna współpraca. Specjalista, który raportuje wykonanie kolejnych części zadania w sposób cykliczny, włącza tym samym zleceniodawcę do całego procesu. Ten na bieżąco zyskuje informacje na temat przebiegu prac i może od razu reagować oraz mieć wpływ na ostateczny kształt aplikacji.
7. Weryfikacja
Zanim aplikacja zostanie wdrożona i udostępniona nawet małej grupie odbiorców, powinna przejść wstępną weryfikację względem globalnych założeń. To kolejny krok, w którym testuje się poszczególne funkcjonalności, co pozwala uniknąć błędów, luk i przede wszystkim negatywnych opinii użytkowników. Sprawdzana jest poprawność kodu oraz to, czy poszczególne części aplikacji działają ze sobą prawidłowo, czy ich funkcjonalność jest zgodna z założeniem, w jakim stopniu aplikacja jest wydajna, jaki jest czas ładowania, i czy aplikacja mobilna spełnia oczekiwania odbiorców.
Weryfikacja działania aplikacji jest tak samo istotna jak rozpoznanie potrzeb, prototypowanie czy kodowanie. Dlatego zapomnij o scenariuszu, w którym testowanie mogłoby być pominięte. W żadnym razie nie byłoby to opłacalne.
8. Wdrożenie aplikacji
Kolejnym etapem procesu jest wdrożenie aplikacji. Dobra praktyka udostępniania małej grupie odbiorców wdrożonej aplikacji mobilnej pozwala zebrać pierwsze informacje zwrotne. Na tej podstawie warto wykorzystać pozytywne opinie do tego, by odpowiednio komunikować nowość w kampanii promocyjnej. W przypadku zidentyfikowania niedociągnięć firma ma szansę jeszcze wdrożyć poprawki, zanim zaprezentuje rozwiązanie na szeroką skalę.
9. Rozwój i utrzymanie
Aby produkt spełniał swoje zadanie długofalowo, musi podlegać stałemu rozwojowi i utrzymywaniu, tak by był na bieżąco dostosowywany do wymagań i aktualizacji systemów operacyjnych. Utrzymywanie aplikacji mobilnych jest także niezbędne ze względu na jej bezpieczeństwo — chroniąc ją między innymi przed atakami hakerskimi. Pozwala też na dalszy rozwój jej funkcjonalności i optymalizację wydajności. Zapewnia też stałe dostosowywanie aplikacji mobilnej do potrzeb klienta, dzięki analizowaniu opinii i wdrażaniu wymaganych zmian.
Tworzenie aplikacji mobilnej. Proces, w którym zyskasz skuteczne wsparcie Twojego biznesu!
Projektowanie aplikacji jest procesem, na który składa się wiele mniejszych etapów tworzenia programu. Każdy z nich jest kluczowy i trudno wyobrazić sobie sytuację, w której można by jakikolwiek z nich pominąć. Szybkie i tanie wykonanie aplikacji z pominięciem dokładnej analizy potrzeb, czy testowania absolutnie nie ma szans na powodzenie. Na porażkę skazane są również te aplikacje, które nie byłyby utrzymywane po zakończonym etapie wdrożenia.
Warto jeszcze podkreślić niezwykłą rolę skutecznych działań promujących nową aplikację i jej odpowiednie pozycjonowanie w Google Play Store i App Store. Choć marketing nie jest etapem procesu projektowania aplikacji, to jego znaczenie jest ogromne w osiągnięciu sukcesu rynkowego całego przedsięwzięcia.
Niezwykle ważną rolę odgrywa również wybór właściwej firmy wykonującej projektowanie aplikacji mobilnej. Jest on kluczowy dla powodzenia całego przedsięwzięcia. Jeśli chcesz stworzyć wymarzony produkt, sprawdź jakie zaplecze mają specjaliści podejmujący się wyzwania, zweryfikuj ich portfolio i poproś o przedstawienie przebiegu procesu i sposobu zarządzania projektem.
Jeśli szukasz sprawdzonego dostawcy aplikacji mobilnych i innych rozwiązań cyfrowych dla biznesu, zgłoś się na bezpłatną konsultację do Digital Forms.