Aplikacje mobilne dla biznesu — jakie korzyści przynoszą firmom?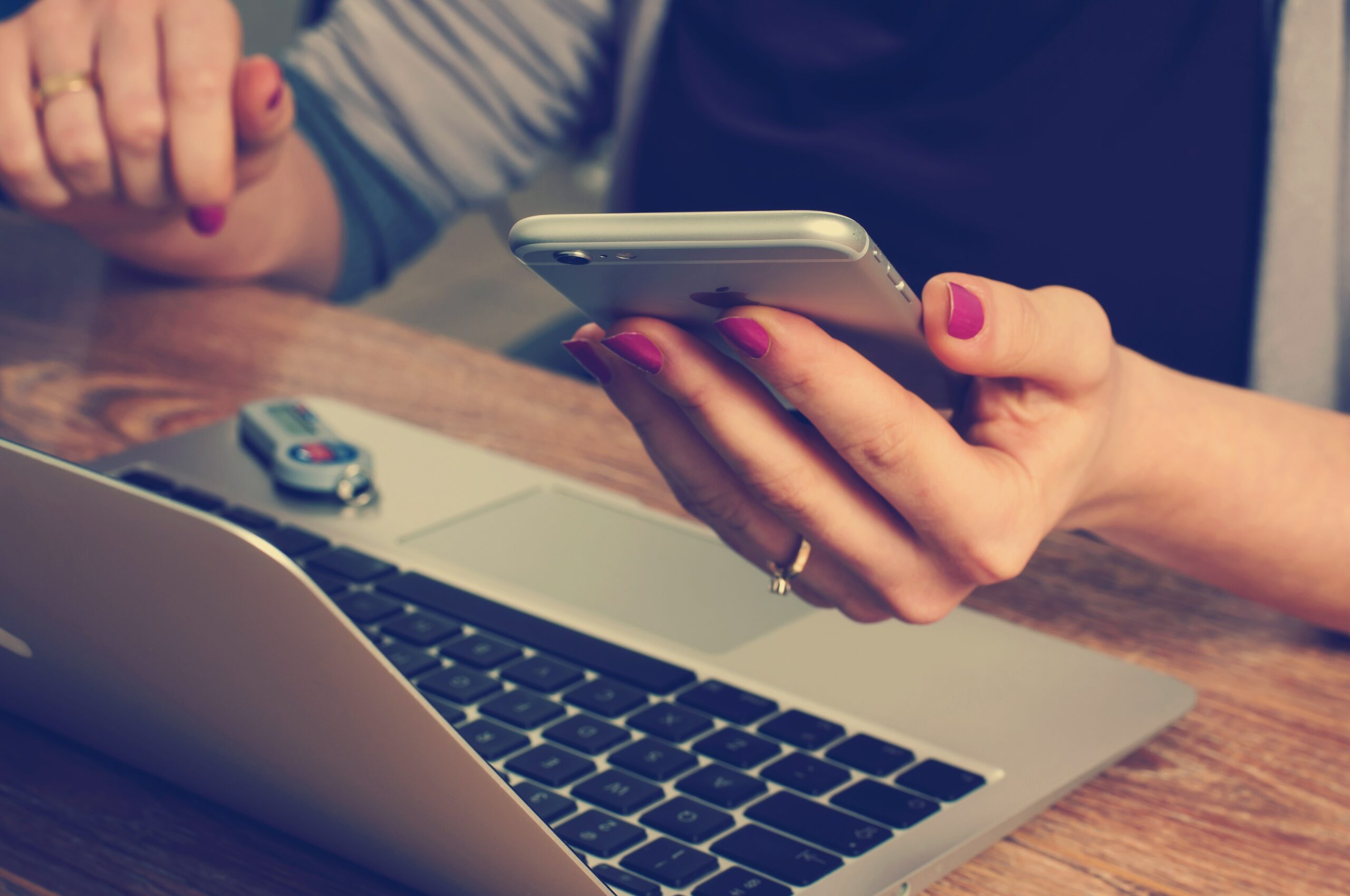 6 marca 2023
W jaki sposób można wykorzystać aplikacje mobilne do rozwoju swojego biznesu? Jest kilka dróg, które pozwalają wejść firmie na zupełnie nowy poziom sprzedażowy, wizerunkowy i organizacyjny. Dzisiaj dzięki aplikacji mobilnej możesz stworzyć ciekawszą wersję obecnego produktu, podnosząc lojalność obecnych klientów czy pozyskując nowych.
Aplikacje pozwalają też tworzyć zupełnie nowe gałęzie biznesu, stawiając przedsiębiorstwo w roli pioniera. Standardem jest dzisiaj aplikacja biznesowa do zarządzania zadaniami, która ułatwia sprawną realizację poszczególnych projektów. Za pośrednictwem aplikacji mobilnej można dziś także budować employer branding wzmacniając system komunikacji zespołowej. Zastanawiasz się jak to możliwe? Poznaj praktyczne przykłady.

Ciekawsze lub bardziej funkcjonalne produkty dzięki aplikacji
Jedni klienci przyzwyczajają się do sprawdzonych rozwiązań, inni wymagają nieustannych zmian. Aplikacje mobilne sprawiają, że możesz łączyć te dwa światy, dzięki czemu zachowasz grupę stałych klientów, ale też łatwiej uzyskasz tych nowych. Aplikacje pozwolą twojej firmie rozwijać stare sprawdzone rozwiązania. Wnoszą też wiele nowego do każdej branży.
Przykład wykorzystania aplikacji do zarządzania procesem ładowania samochodów elektrycznych
Dzięki aplikacji POWER użytkownicy samochodów mogą dokonać rezerwacji, a także sprawdzić, jakie jest bieżące zużycie prądu. To niesamowita oszczędność czasu i lepsze możliwości organizacyjne dla właścicieli elektryków. Tym samym aplikacja na urządzeniu mobilnym pozwala w ogromnym stopniu poprawić jakość doświadczeń klientów korzystających z produktu.
Chcesz rozwinąć swój produkt i przyciągnąć nowych klientów? Digital Forms zaprojektuje profesjonalną aplikację mobilną dla Twojego biznesu.
Wzrost zysków za sprawą najlepszych aplikacji
Aplikacje mobilne dla biznesu to skuteczne narzędzie do uzyskania lepszych wyników finansowych. Dzieje się tak, ponieważ klienci mogą kupować produkty, znajdując się w dowolnym miejscu: na przykład w środkach komunikacji miejskiej, w poczekalni, w parku czy w domu. Łatwy i szybki proces składania zamówień za pośrednictwem najlepszych aplikacji zachęca użytkowników do zakupów. To prosty sposób na wzrost przychodów i zysków dla firm.

Nowe możliwości sprzedaży dzięki aplikacji
Aplikacja mobilna z jednej strony pozwala lepiej zarządzać swoim biznesem, ale z drugiej program pozwala utworzyć nowe źródło dochodów. Jeśli nowa platforma świetnie sprawdzi się w jednym biznesie, może być równie pomocna dla firm powiązanych z daną branżą.
Na przykład właściciel wielu nieruchomości — hoteli czy apartamentów ma potrzebę, by zebrać wszystkie dane na ich temat w jednej aplikacji, by móc szybko reagować na szereg zmiennych związanych z tym biznesem.
Zamawiając dla siebie takie indywidualne rozwiązanie, może je łatwo w przyszłości skalować, dzieląc się nim z innymi użytkownikami. Czyż problematyka związana z nieruchomościami innego właściciela nie będzie zbliżona? Z pewnością nie wszyscy zechcą inwestować w aplikację, ale bardzo chętnie skorzystają z gotowego rozwiązania, które wówczas stanie się źródłem dochodu dla pioniera inwestującego w pierwszej kolejności.

Jeśli Twój biznes wymaga aplikacji, zapewne nie jesteś jedyny w swojej branży. Bądź pionierem, zamów aplikację, która odpowie na Twoje potrzeby. Co więcej, w przyszłości możesz dzięki niej zyskać nowe źródło dochodów.

Lepsze dopasowanie oferty do profilu klienta
Dobra aplikacja biznesowa umożliwia lepszą komunikację z klientami i dobrą identyfikację ich potrzeb. Dzięki rejestracji użytkowników oraz analizie zachowań, firmy szybko i precyzyjnie poznają preferencje zakupowe swoich odbiorców, dopasowując ofertę do ich zainteresowań, przyzwyczajeń, wieku, czy stylu życia.

Wzrost konkurencyjności
Za sprawą indywidualnie zaprojektowanych aplikacji mobilnych, firmy mogą w dużym stopniu podnieść swoją pozycję konkurencyjną. Dostępność marki na urządzeniach mobilnych klientów ułatwia częsty kontakt, przyczynia się do większej ilości zamówień, ale też wspomaga jakość obsługi klienta.
Podstawowe funkcje takie jak: czat online, łatwe zgłaszanie problemów, czy szybkie odpowiedzi na zapytania usprawniają komunikację z klientami i pozytywnie wpływają na user experience, lojalność klientów, pozyskiwanie pozytywnych opinii oraz nowych odbiorców.
Pamiętaj, że szybka komunikacja z klientami nie musi być prowadzona jedynie w mediach społecznościowych, ale w indywidualnie zaprojektowanej aplikacji, która zapewni Ci wszystko, czego potrzebujesz, aby dotrzeć do swojej grupy odbiorców.

Łatwiejsze zakupy dzięki aplikacji
Wiele aplikacji mobilnych zdecydowanie ułatwia proces wyszukiwania produktów i realizacji zamówień co bezpośrednio przekłada się na wzrost konwersji oraz sprzedaż. Szybkość i możliwość składania zamówień w dowolnym miejscu to wielka zaleta aplikacji.
Wzrost zaangażowania pracowników
Aplikacja umożliwia zarządzenie pracą zespołu. Nie tylko wspiera komunikację grupową, czy pozwala na zarządzanie zadaniami, ale również pozwala na szybkie znalezienie rozwiązań, dla problemów, z którymi spotykają się ludzie w swojej pracy.
Specjalnie zaprojektowane aplikacje mobilne dla danej firmy, uwzględnią specyfikę pracy w branży i pozwolą na wprowadzenie informacji o trudnościach, które pojawiły się podczas wykonywania zadań. Z drugiej strony umożliwią innym pracownikom na udzielenie szybkiej odpowiedzi. To bardzo podnosi poziom zaangażowania pracowników, tak poszukiwanego w ostatnich latach. Aplikacje mobilne są zatem świetnym narzędziem do budowy employer branding i wzmocnienia komunikacji zespołowej.
Zwiększenie zasięgu
Aplikacje mobilne dla biznesu pozwalają zwiększyć zasięg bezpośredniej komunikacji z klientami korzystającymi z urządzeń mobilnych. Przekazy firmowe nie ograniczają się wówczas do tych odbiorców, którzy używają tylko wersji webowej, ale docierają też do bardzo szerokiej i stale rosnącej grupy użytkowników, dla których źródłem informacji jest aplikacja w telefonie.

Lepsze zarządzenie projektami
Aplikacja mobilna wspiera przedsiębiorców w zarządzaniu zadaniami, umożliwiając intuicyjne tworzenie planów i harmonogramów projektów. Dodatkowo przydatną funkcją, jaką zapewniają aplikacje, jest bardzo szybkie wprowadzanie zmian w projekcie i aktualizacja harmonogramów, która jednocześnie może dotrzeć do wszystkich osób w czasie rzeczywistym.
Aplikacje mobilne dla biznesu to również narzędzia, w których możesz przydzielać zadania i wyznaczać terminy praktycznie z dowolnego miejsca, a także dodawać komentarze, załączniki, udostępniać pliki czy też monitorować postępy realizacji zadań. Zatem programy na urządzenia mobilne, ułatwiają dziś skuteczne planowanie czasu pracy i służą do efektywnego zarządzania zespołem oraz do zarządzania projektami.
Dostęp do kluczowych danych
Wykorzystując mobilne aplikacje dla biznesu, dobrze jest wyjść poza obszar standardowych rozwiązań, które oczywiście świetnie się sprawdzają w każdym przedsiębiorstwie, będąc naturalną konsekwencją digitalizacji firmy.

Warto jednak wprowadzić taką aplikację, która wniesie do biznesu dodatkową wartość, czyli wyróżni firmę na tle wielu innych i sprawi, że jej działalność będzie rzeczywiście unikalna — nie tylko w ustach handlowców, ale w konkretnym obszarze funkcjonowania organizacji.
O jaką aplikację chodzi? Jednym z przykładów może być mobilna aplikacja dla biznesu, która służy do zbierania informacji przez reprezentantów medycznych. Firma Roche, dzięki współpracy z Digital Forms, zyskała rozwiązanie, które pozwala jej zbierać setki danych praktycznie w czasie rzeczywistym. Bez wykonywania osobnych ankiet, na które nikt nigdy nie ma czasu i bez angażowania dodatkowych osób przeprowadzających badania.
Reprezentanci medyczni w trakcie swojej pracy, pozyskują wiele danych, które następnie wprowadzają do unikalnej aplikacji, dzięki czemu firma gromadzi potężną bazę wiedzy, na temat wielu schorzeń i zastosowanych medykamentów. Zyskuje tym samym ogromną dawkę danych, na których może przeprowadzać dokładne analizy. Warto podkreślić, że aplikacja jest wykorzystywana międzynarodowo, co w jeszcze większym stopniu świadczy o wartości tego rozwiązania. Organizacja natomiast ogranicza ryzyko nietrafionych inwestycji i nowych rozwiązań dzięki możliwości podejmowania decyzji na podstawie danych, jakie dostarcza im aplikacja.

Aplikacje — coraz większe znaczenie programów do zarządzania projektami

Podsumowując, w dzisiejszych czasach aplikacje mobilne są elastycznym narzędziem dla firm, na przykład w kwestii zarządzania projektami. Dotyczy to nawet małych zespołów, ale jeszcze lepiej sprawdzają się w dużych organizacjach. Intuicyjny interfejs i listy zadań to podstawowe cechy aplikacji, które pozwalają na usprawnianie pracy zespołu i ułatwiają bezpośrednią komunikację. To niezwykle ważne narzędzia, które umożliwiają efektywną działalność.
Warto pamiętać, że zarządzanie projektami to nie jest jedyna funkcja aplikacji dla biznesu. Równie wartościowy jest wpływ aplikacji na bezpośrednią komunikację z klientami, wspieranie pracowników, czy tworzenie innowacyjnych wersji produktów.
Rynek wymaga dzisiaj szybkiej odpowiedzi, a konkurenci chętnie wykorzystują każde Twoje "uśpienie". Jeśli szukasz najlepszych aplikacji do realizacji projektów, a jednocześnie chcesz się wyróżnić lub znaleźć rozwiązanie idealnie pasujące do Twojej działalności, to znaczy, że jesteś na dobrej drodze w digitalowym rozwoju.
Potrzebujesz mobilnej aplikacji dla swojego biznesu, która nie będzie szablonowym gotowcem, lecz idealnie wpasuje się w potrzeby Twojej firmy? Skorzystaj z doświadczenia Digital Forms. Zamów bezpłatną konsultację