Rozliczanie godzinowe czy Fixed Price — co się bardziej opłaca?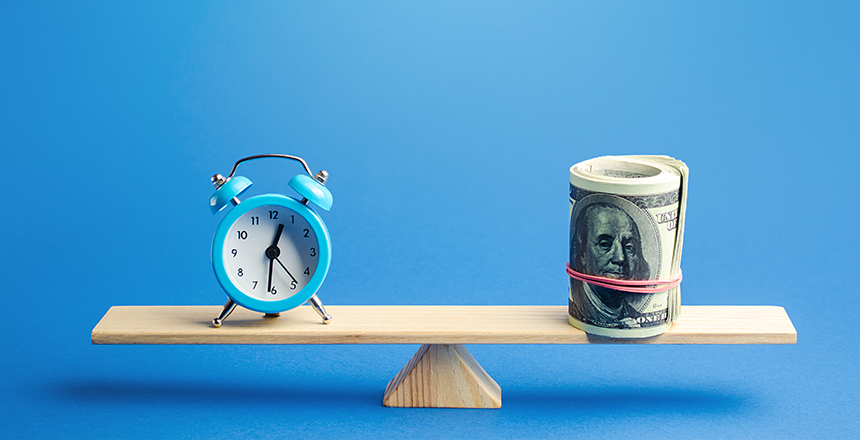 15 września 2023
Chcesz zlecić projekt aplikacji mobilnej i uzyskałeś propozycję rozliczenia godzinowego? Nie masz pewności czy skorzystasz na tym rozwiązaniu? W tym artykule dowiesz się, dlaczego wraz z rozwojem nowoczesnych technologii, ta metoda stała się bardzo powszechna i czy faktycznie można na niej oszczędzić.
Rozliczenie godzinowe — po pierwsze, oszczędność!
Zastanów się, jak przygotowujesz wyceny. Jeśli rozliczasz się w opcji fixed price, z pewnością zakładasz margines na nieprzewidziane sytuacje, które będą wymagały dodatkowego nakładu pracy. Praktyka pokazuje, że klient często płaci dodatkowo około 30% ceny. To po prostu rezerwa, która często nawet nie jest uruchamiana, ale jednak musi być opłacona.
Jeśli jako klient, wybierasz rozliczenie Time & Material (T&M) — wówczas płacisz jedynie za faktycznie wykonaną pracę. Nie ma tu żadnych rezerw, ani pustych płatności. To czysta oszczędność.
Dodatkowym bonusem rozliczenia godzinowego w stosunku do formy fixed price, jest łatwiejsza kontrola kosztów w poszczególnych miesiącach. Budżet nie jest nagle obciążony jedną, często sporą kwotą, którą należy zapłacić jednorazowo. W zamian opłacasz regularnie mniejsze faktury — za zdefiniowany zakres prac — z których każdą możesz dokładnie przeanalizować, dzięki raportom dodawanym do zlecenia płatności.
Po drugie: szybkość i kontrola postępów 
MVP — minimum viable product
Środowisko biznesowe jest bardzo dynamiczne i szybko się zmienia. Nie ma zatem miejsca na przedłużające się opracowywanie i wielomiesięczne oczekiwanie na pierwszy kształt projektu. Nie oznacza to, że zakończony projekt musi powstać w dwa tygodnie. Tworzenie skutecznej aplikacji — to jej ciągłe doskonalenie. Z pewnością efekty uzyskane w początkowej fazie będą wymagały modyfikacji, usprawniania i rozwoju. Jednak zespół projektowy, rozliczany godzinowo, dąży do tego, by jak najszybciej zaproponować wstępną wersję aplikacji mobilnej i uzyskać feedback klienta z pierwszego testowania rynkowego. Dostawca jest motywowany do tego, aby skoncentrować się na wydajnym i efektywnym wykorzystaniu czasu — i tym samym dostarczyć jak największą wartość.
Rozliczenie w tej formie pozwala zatem szybciej uzyskać pierwsze efekty, a także daje większą kontrolę na każdym etapie projektu aplikacji.
Skrócenie czasu negocjacji
W metodzie T&M znacznie skraca się czas przeznaczany na negocjacje. Obie strony unikają długiego wyjaśniania i argumentowania ceny. Klient otrzymuje od firmy czas pracy programistów i ściśle skorelowane z tym efekty pracy. To również pomaga ominąć biurokrację do minimum.
Dostawca w szybkim tempie, czyli już w ciągu kilku dni od pierwszego kontaktu, przechodzi do działania, którego podstawą jest ścisła współpraca z klientem.
Po trzecie: Elastyczność i ciągłe doskonalenie
Time and Material — w przeciwieństwie do Fixed Price — sprzyja większej elastyczności. Dotyczy to obydwu stron transakcji: klienta i dostawcy, który tworzy oprogramowanie. Wykonawca może w trakcie trwania projektu dostosowywać swoje zasoby do aktualnych potrzeb. Będzie mógł swobodnie przypisywać do poszczególnych etapów projektowania taki zespół, który najlepiej zrealizuje daną część pracy, podnosząc tym samym jej efektywność.
Klient natomiast zyskuje większe możliwości wprowadzania zmian i nadawania im priorytetów. Ponadto, w przypadku modyfikacji wstępnego planu, nie ma konieczności podpisywania aneksu do umowy. Współpraca z założenia opiera się na elastyczności i gotowości do zmian w trakcie realizacji — zgodnie z zasadami, na których opiera się zwinne zarządzanie.
Time and Material a metodyka Agile

Płatność uzależniona bezpośrednio od czasu pracy, wpisuje się w założenia metodyki agile (np. metoda Scrum, Kanban, czyli zwinne zarządzanie). Obie formy pracy koncentrują się na elastyczności, adaptacyjności i współpracy. Dostawca, zamiast ściśle trzymać się planu — może szybciej reagować na nowe sytuacje, wprowadzając niezbędne zmiany. Ogromną wartością jest tutaj ścisła komunikacja dwóch stron i dokładne poznanie potrzeb klienta.
Efektem pracy, jest przede wszystkim działająca aplikacja, a obszerna dokumentacja schodzi na drugi plan. W tym modelu klient szybciej otrzymuje kolejne etapy prac, niż w przypadku projektów opartych na tradycyjnych formach zarządzania. Zyskuje tym samym szansę na przetestowanie poszczególnych funkcji i zgłoszenie koniecznych modyfikacji.
Finalnie, wartość aplikacji jest wyższa, ponieważ jest ona lepiej dostosowana do rzeczywistych potrzeb rynku i nastawiona na zadowolenie klienta.
To z kolei wymaga zaangażowania się klienta w realizację projektu — z korzyścią dla jego efektu. Im aplikacja będzie silniej skorelowana z charakterem branży, tym korzyści, które przyniesie firmie zamawiającej, będą wyższe.
Ponieważ metodyki agile opierają się na iteracyjnym podejściu, w którym kolejne etapy dostarczane są w krótkich, 2-4 tygodniowych sprintach — rozliczenie Time and Material idealnie wpisuje się w ten system pracy. Klient zyskuje pełną kontrolę nad wydatkami dotyczącymi zlecenia i może łatwiej koordynować postępy.
Określenie wstępnych kosztów
Być może masz obawy, że decydując się na model T&M nie jesteś w stanie przewidzieć ile będzie Cię kosztowało zlecenie oprogramowania. Profesjonalne firmy oczywiście przewidują konieczność wskazania kosztów, nawet jeśli wraz z dalszą rozbudową, będą się one zmieniały.
Dobrą praktyką, jest prowadzenie warsztatów produktowych, podczas których dostawca dokładnie rozpoznaje potrzeby klientów, charakter działalności firmy i zakres oczekiwań. Na tej podstawie oszacowuje wartość projektu, którą należałoby uwzględnić w firmowym budżecie.
T&M metoda, która upowszechnia się wraz z rozwojem nowoczesnych technologii
Rozliczenie Time and Material jest najbardziej charakterystyczne dla branży IT i świetnie się w niej sprawdziło. Daje bowiem szereg korzyści zarówno wykonawcy oprogramowania jak i jego odbiorcy.

Przede wszystkim pozwala klientowi otrzymać produkt wysokiej jakości i przy zachowaniu możliwie najniższej ceny. Nie naraża odbiorcy na dodatkowe koszty, które często należy opłacić w przypadku rozliczenia Fixed Price. Są to koszty, które dostawca zakłada w postaci rezerwy — na nieprzewidziane sytuacje. W wersji rozliczania godzinowego — taka opłata nie ma miejsca.
Ogromną wartością tej metodyki jest szybkość działania. Zwinne zarządzanie zakłada oddanie prac w krótkich sprintach, zatem klient otrzymuje pierwszy gotowy projekt już po dwóch, czasem czterech tygodniach. To właśnie rozliczenie T&M sprzyja tej formie pracy. Umożliwia szybkie rozpoczęcie prac i redukcję czasu potrzebnego na przygotowanie wycen, tworzenie ewentualnych aneksów oraz innej dokumentacji.
Rozliczenie T&M gwarantuje sprawną realizację, szybkość reakcji i gotowość do wprowadzenia modyfikacji, jaką prezentują poszczególni członkowie zespołu projektowego. Strony transakcji nie są związane sztywnym planem, który obowiązuje w wersji Fixed Price. Implementacja kolejnych faz programu przebiega bardzo efektywnie.
Klient zyskuje ponadto kontrolę nad realizacją zlecenia. Chociaż zamawiający może już w początkowej fazie zdefiniować zakres prac, to w trakcie trwania projektu ma szansę z łatwością go zmieniać. Oszacowanie wartości projektu następuje podczas warsztatów produktowych, w czasie których profesjonalny wykonawca oprogramowania ustala najważniejsze założenia.
Rozliczenie T&M daje szereg korzyści dla obu stron transakcji i jest fundamentem budowy zaufania pomiędzy klientem a wykonawcą. Ponadto motorem efektywnego działania jest między innymi stworzenie takiego rozwiązania, które uzyska świetne rekomendacje. To z kolei zapewni dalszy rozwój zarówno dostawcy jak i odbiorcy zlecenia.
Interesuje Cię współpraca w formie T&M?
Zapytaj o więcej szczegółów