Case study: Transformacja Cyfrowa lidera linii lotniczych

17 stycznia 2023
Czym jest Transformacja Cyfrowa?
Transformacja cyfrowa to stały proces, który umożliwia firmie efektywne działanie — niewspółmiernie wyższe od funkcjonowania przedsiębiorstw, które nie wprowadziły strategicznych zmian digitalowych. Jednym z elementów transformacji jest cyfryzacja, czyli wykorzystanie technologii informatycznych do podniesienia efektywności wszystkich procesów. Warto podkreślić, że transformacja cyfrowa jest skuteczna wówczas, jeśli staje się strategią biznesową opartą na nieustannej optymalizacji. To kultura i sposób myślenia nastawiony na nieustanny rozwój.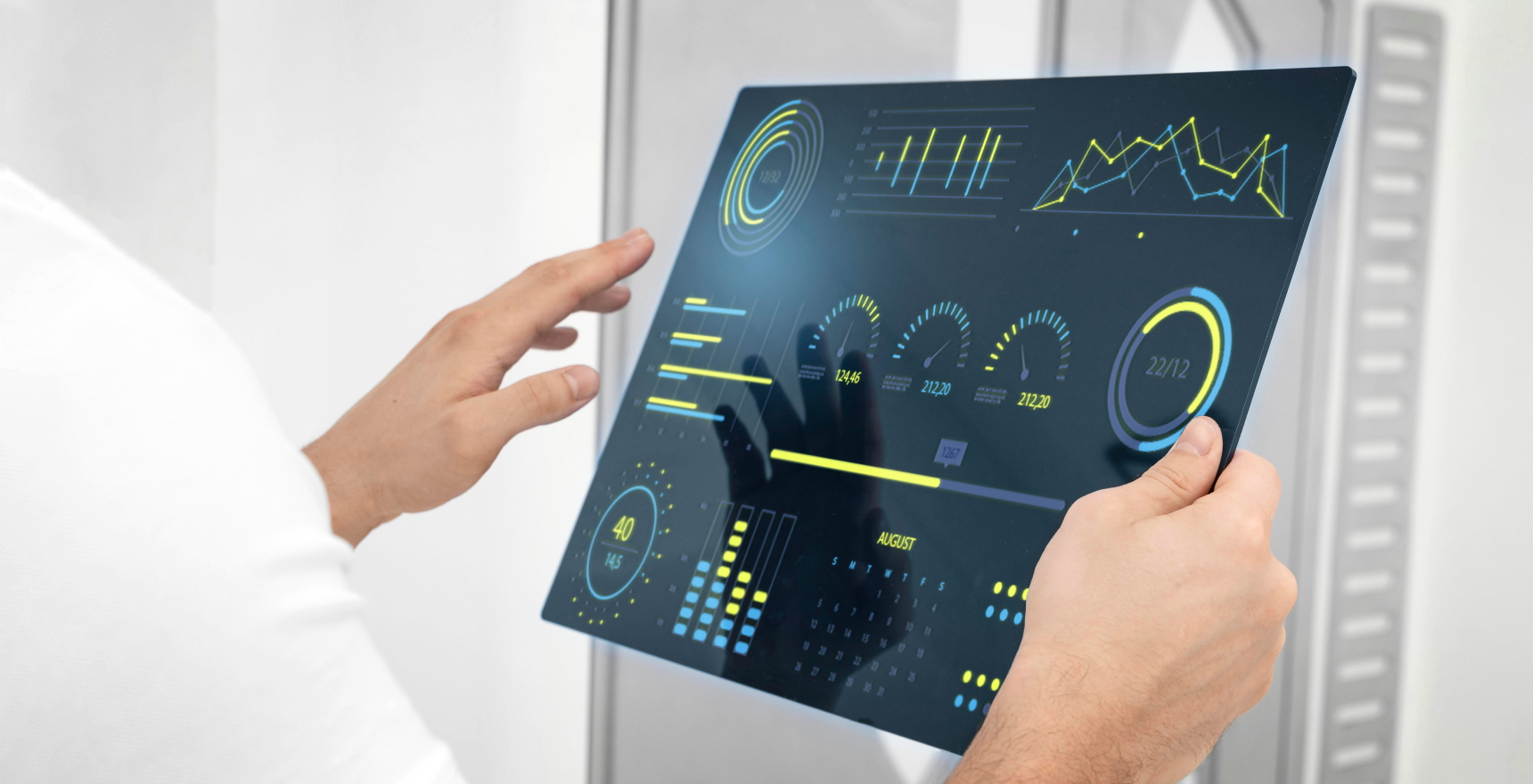 O firmie
Transformacja cyfrowa, którą przeprowadziliśmy, dotyczyła brytyjskich linii lotniczych, które wchodząc na rynek, mierzyły się z gigantami w swojej branży. Strategia łączyła odważną, niebanalną komunikację z bezkompromisową dbałością o świetne samopoczucie pasażerów podczas lotu. W miarę rozwoju firmy język komunikacji bardziej się sformalizował, jednak najważniejsze elementy pozostały. Klienci nadal bardzo pozytywnie oceniali wrażenia podczas lotu. Zatem z jakimi problemami mierzyły się linie lotnicze i w czym pomogło im Digital Forms?
Wyzwania dla Digital Forms w przeprowadzanej transformacji
Linie lotnicze chciały rozszerzyć pozytywne doświadczenia klientów poza samą sferę lotu. Głównym celem był więc rozwój programów i aplikacji ułatwiających klientom rezerwację lotów, dostęp do ich planów podróży czy realizację odpraw na loty.
Organizacja w bardzo niskim stopniu wykorzystywała cyfrowy kanał sprzedaży. Wysoka marżowość tej formy (15%) versus sprzedaż przez agentów (2-3%), powodowała w firmie wzrost zainteresowania rozwojem kanału digital.
Menedżerowie zauważali znaczną różnicę pomiędzy wykorzystaniem cyfrowego kanału sprzedaży przez konkurencję w stosunku do swojej organizacji. Sprzedaż cyfrowa sięgała u innych rynku 50% w porównaniu do 15%, które notowała firma przechodząca transformację.
Omawiane linie lotnicze miały już za sobą duże inwestycje w oprogramowanie i szereg rozwiązań technologicznych, które jednak nie były w pełni wykorzystane. Systemy nie były z sobą zintegrowane, natomiast dane były rozproszone. To uniemożliwiało wprowadzenie nowych funkcjonalności zapewniających lepszą konwersję, szybsze i skuteczniejsze pozyskiwanie leadów, wzrost sprzedaży czy poprawę doświadczeń klienta. Bardzo niskie oceny i opinie na temat funkcjonowania ówczesnej strony i aplikacji potwierdzały tylko konieczność jak najszybszych modyfikacji obecnych rozwiązań.
Niewspółmiernie rozwinięty dział call center w stosunku do innych firm w branży wynikał z zatrudnienia aż 880 osób w tym obszarze, generując ogromne koszty.
Rozwiązaniem była więc pełna transformacja cyfrowa, dzięki której firma między innymi podniosła wyniki sprzedaży, zwiększając znaczenie kanału digital, obniżyła koszty obsługi klienta, zwiększyła wykorzystanie dotychczasowych rozwiązań technologicznych, które zapewniały lepsze pozyskiwanie leadów czy poprawę doświadczeń klienta również przed lotem oraz po jego zakończeniu.
Proces Transformacji Cyfrowej
Transformacja przeprowadzona przez Digital Forms przebiegła według określonych etapów, z których najogólniej można wyróżnić trzy poniższe:
Analiza sytuacji klienta
Na pierwszym etapie przeprowadziliśmy bardzo dokładne analizy obejmujące sytuację klienta i jego konkurentów. Tylko dogłębna ocena faktycznej sytuacji pozwala nam wdrażać skuteczne działania, tak aby proponowane rozwiązania przynosiły firmie realne korzyści na wielu płaszczyznach, w tym finansowych.
Dokładne działania przeprowadzone w ramach analizy:
Wstępne warsztaty, które pozwoliły nam poznać specyfikę firmy oraz jej wyzwania.
Analiza branży, w której zbadaliśmy panujące standardy, zweryfikowaliśmy technologie stosowane przez konkurencję oraz sprawdziliśmy, jak są oceniane przez klientów.
Digital touchpoints. Zbadaliśmy elementy wspólne i wyróżniające przedsiębiorstwo na tle konkurencji pod względem technologii informacyjnych.
Analiza sentymentu istniejącej aplikacji oraz strony WWW — oraz porównanie ich do konkurencji.
Analiza wewnętrzna firmy — przeprowadziliśmy wywiady z pracownikami na wszystkich płaszczyznach organizacji.
Badanie dojrzałości digitalowej. Przeprowadzając analizę SWOT, zweryfikowaliśmy silne i słabe strony digitalu firmy oraz szanse i zagrożenia w jego rozwoju.
Mapowanie ekosystemu digitalowego (ścieżek sprzedażowych).
Analizy materiałów od klienta — z działów data, e-commerce, tech, Customer Experience i sprzedaży.
Wynik analiz — podsumowanie i wnioski
Niewykorzystany potencjał poniesionych inwestycji
W wyniku pierwszych ustaleń odnotowaliśmy ogromne rozproszenie danych zebranych w firmie, dużą liczbę niepowiązanych technologii, a także trudności wnioskowania i przetwarzania danych.
Linie lotnicze inwestowały w narzędzia tech i digital jeszcze przed transformacją cyfrową. Jednak pomimo znacznych kwot przeznaczonych na zakup i utrzymanie programów i aplikacji, poziom dojrzałości digitalowej był niski.
Wynikało to między innymi z ogromnego rozproszenia danych, co z kolei uniemożliwiało ich optymalne wykorzystywanie. Dostępne dane nie wspomagały procesów pozyskiwania nowych leadów sprzedażowych, nie wspierały profilowania klientów i możliwości szybkiej sprzedaży dzięki dopasowaniu produktów do preferencji odbiorców, nie wspomagały też przebiegu samej transakcji.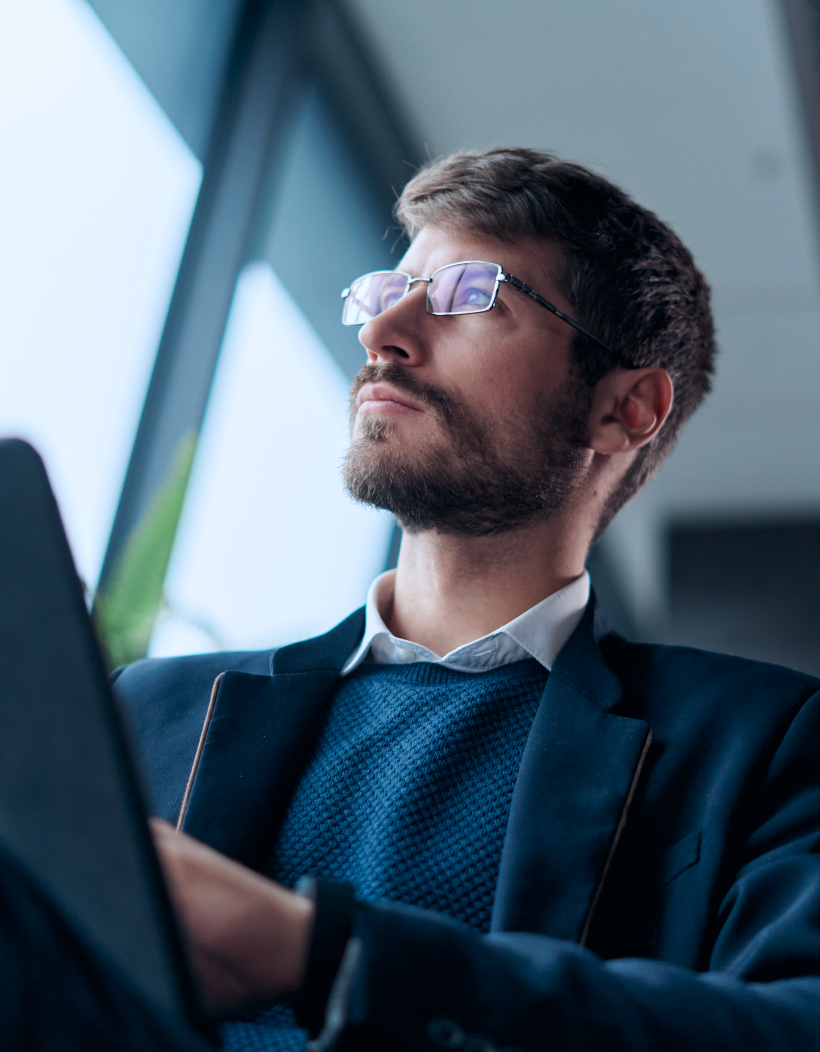 Konieczność optymalizacji ścieżki
podróży klienta
Pozytywne doświadczenia klientów notowano głównie w trakcie samego lotu. Należało jeszcze mocno dopracować wszystkie pozostałe obszary, w których klienci mieli kontakt z marką. Digital Forms przeprowadziła analizę ścieżki podróży klienta. Dotychczas nie wszyscy pracownicy mieli świadomość, jak przebiegała i jakie wnioski można było wyciągnąć na poszczególnych jej etapach, aby podnieść efektywność całego procesu, wyzwolić zaangażowanie użytkowników i uzyskać lepsze wyniki.
Zaprezentowany przez nas czytelny schemat, który przygotowaliśmy dla linii lotniczych, został doceniony przez zespół firmy i wykorzystywany w codziennej pracy.
Schemat ścieżki podróży klienta pozwolił klientowi odczytać, jakie braki występowały w ekosystemie oraz, które elementy są jego słabym ogniwem.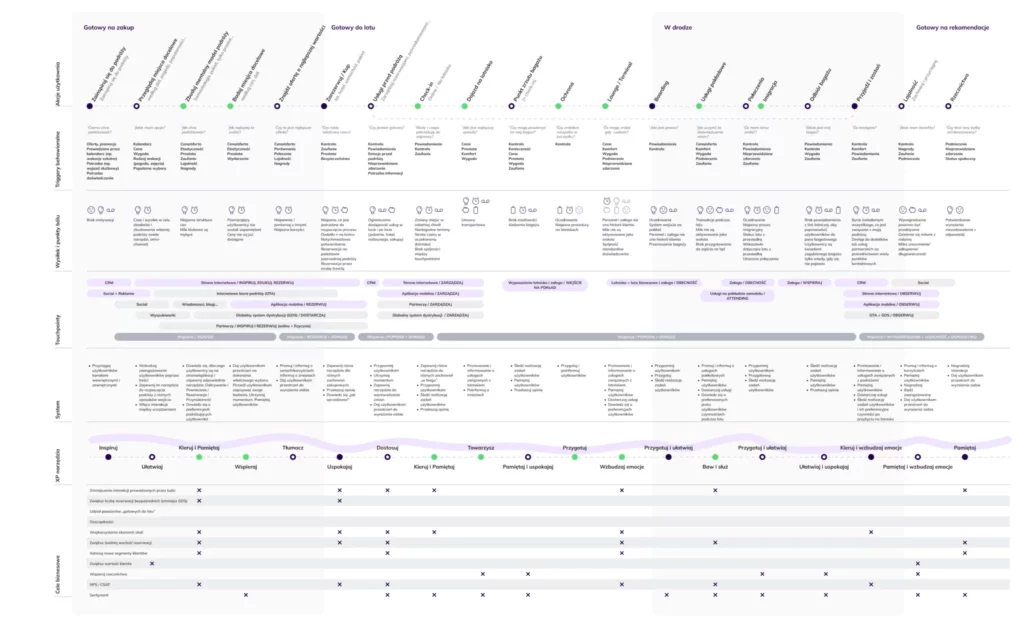 Najważniejsze wnioski:
Firma dysponowała 4 systemami CRM. Tak rozproszone dane nie pozwalały na odpowiednie profilowanie klienta ani sprzedaż optymalnych produktów.
2. Nieefektywne narzędzia
Głównym narzędziem sprzedaży była strona WWW, która jednak nie działała na niektórych urządzeniach.
3. Skupienie na podstawach
Klienci pozytywnie oceniali wszystkie elementy związane z samym lotem: personel pokładowy, flota samolotowa, rozrywka.
4. Niska jakość współpracy
Współpraca z powiązanymi podmiotami wymagała poprawy, tak aby nastawienie klienta do marki było na wysokim poziomie niezależnie od wybranego sposobu zamawiania usług.
Niski poziom dojrzałości cyfrowej
Wynik oceny przeprowadzonej samodzielnie przez klienta wskazał na niski poziom dojrzałości cyfrowej przedsiębiorstwa. Ocena została wykonana przy wykorzystaniu frameworka dostarczonego przez Digital Forms.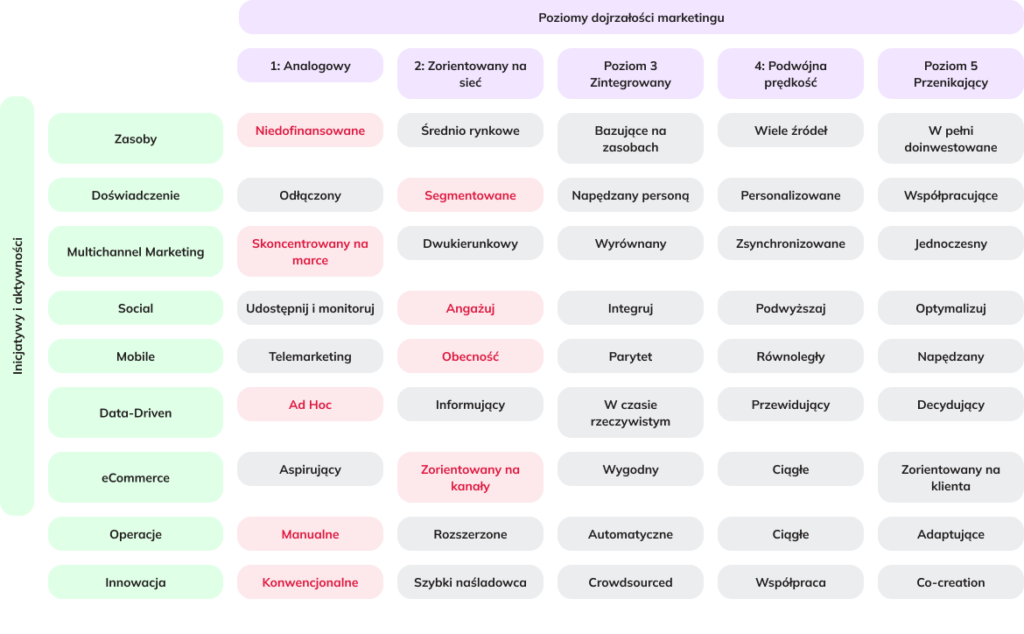 Cyfrowy ekosystem wymaga optymalizacji
W trakcie wewnętrznego audytu wykryliśmy 6 wadliwych elementów, które wpływają na niską efektywność cyfrowego ekosystemu, przez co nie działa on, tak jak powinien. Poniżej przedstawiamy główne problemy ujęte w raporcie z audytu przygotowanym dla klienta:
Nadmierne poleganie na kanałach bezpośrednich: Strona WWW generuje 16,75% dochodu, w porównaniu do 38% w branży.
Technologia napędzana przez produkty, a nie strategię: Firma stosuje aż 4 różne systemy CRM
Brak jednego źródła danych (single point of truth). Wszystkie działy inwestują w cyfrowe projekty, które nie są spójne. Funkcjonują odrębnie.
Rozproszone dane. Rozproszenie danych PNR (o przelocie pasażera), danych na temat rezerwacji i danych o pasażerach.
Niewykorzystany potencjał głównej platformy. Pomimo inwestycji w światowej klasy rozwiązania, ich potencjał nie jest wykorzystywany w odpowiednim stopniu.
Fragmentaryczne doświadczenie klienta. W poszczególnych punktach styku klienta z marką pojawiają się sprzeczne treści i niespójne informacje.
Rekomendacje
W wyniku Transformacji Cyfrowej klient otrzymał opracowaną strategię digitalową. Dogłębne analizy przedsiębiorstwa, ścieżek podróży klienta, czy stosowanych technologii i całego ekosystemu cyfrowego pozwoliły nam wypracować najlepsze rozwiązanie dla firmy, które w efekcie, już po jego wdrożeniu, przyniosło realny wzrost zysków.
Wizja:
Należy sprawić, by podróż klienta stała się prosta i bezproblemowa poprzez zapewnienie w całym cyfrowym ekosystemie pozytywnego doświadczenia klienta — unikalnego dla tych konkretnych linii lotniczych.

Dla zapewnienia realizacji wizji wyznaczyliśmy cyfrowe cele:
Przejście w 100% na obsługę self service
Zorientowanie na klienta i zadania
Zdecydowane zmiany i przedsiębiorcze nastawienie
Traktowanie mobilnych rozwiązań priorytetowo
Zapewnienie unikalnego doświadczenia w każdym punkcie interakcji klienta z marką
Określiliśmy strategiczne imperatywy, które określają markę:
Personalizacja, elastyczność, proaktywne nastawienie, bezproblemowość
Zadbaliśmy o fundamenty, których budowa okazała się niezbędna, by realizować wizję. Wyznaczyliśmy podstawy organizacyjne, technologiczne oraz procesowe. W części organizacyjnej postawiliśmy na nowy model cyfrowego przywództwa. W wymiarze technologicznym podkreśliliśmy konieczność kapitalizacji i pełnego wykorzystywania struktury danych, natomiast w obszarze procesów określiliśmy strategię, możliwości i narzędzia lidera cyfrowego.
Jednym z elementów przekazanych klientowi podczas transformacji cyfrowej była mapa inicjatyw, czyli kierunków i konkretnych projektów, które firma musiała wdrożyć. Wyraźny podział na etapy i ich określona sekwencja pozwoliły firmie osiągać założone cele.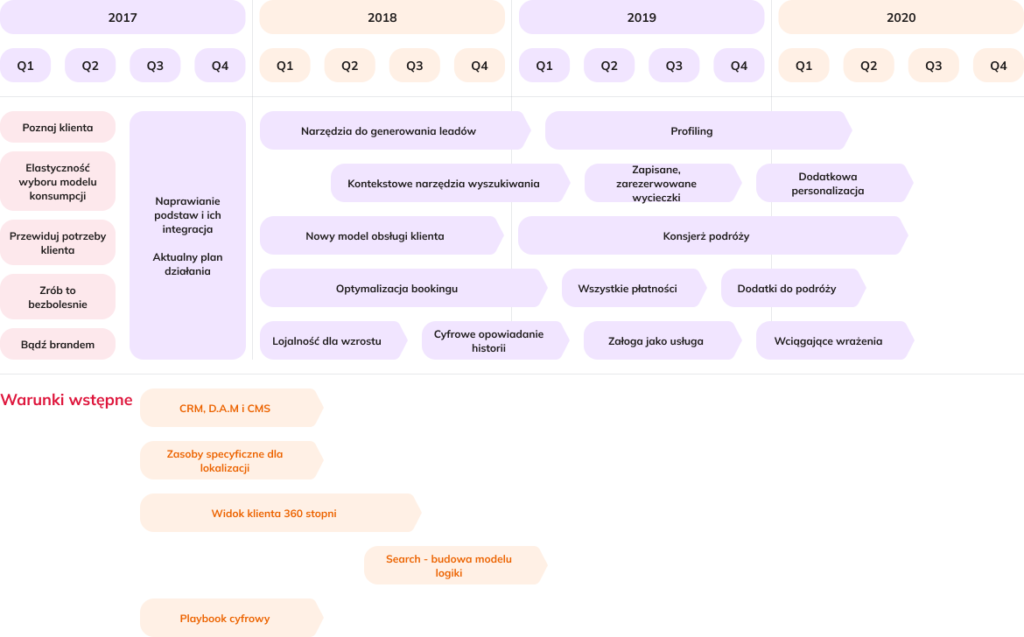 Mapa inicjatyw uwzględnia cele strategiczne, grupy projektów oraz problemy, które wymagały naprawy, przed realizacją projektów.
Chcąc lepiej wyjaśnić wartość mapy inicjatyw, opisujemy poniżej jeden z programów — Lead Generation. Konkretne projekty w nim ujęte pozwolą zrozumieć wzrost efektywności pozyskiwania leadów, które przedsiębiorstwo osiąga w wyniku procesu Transformacji Cyfrowej.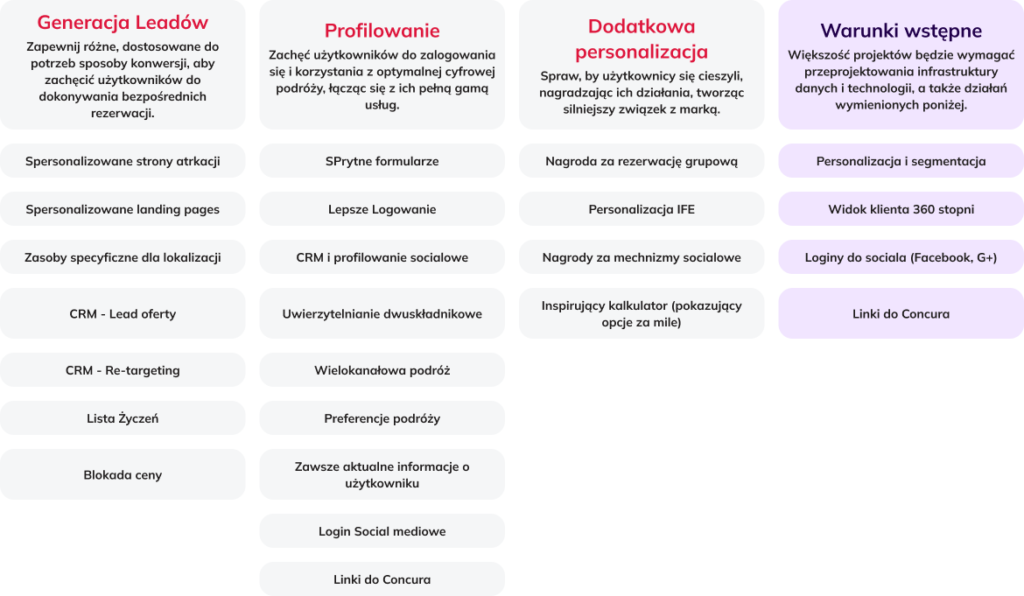 Program LEAD GENERATION, to grupa projektów, których celem jest generowanie leadów, konwersja i sprzedaż. Obejmował on funkcjonalności, które przyczyniały się do wzrostu zainteresowania podróżowaniem w określone miejsca, motywowały klientów do zamówienia biletów, dzięki dostosowaniu ofert do ich preferencji, a także przez stosowanie motywatora ograniczonego czasu przyspieszającego decyzję o zakupie.
Jakie funkcjonalności zastosowano?
Personalizowane podstrony. Klient, który w przeszłości przeglądał określone kierunki podróży, trafia na podstrony przedstawiające zalety danego miejsca. Dzięki temu wzrasta jego zainteresowanie daną lokalizacją.
Personalizowane Landing Page. Zalogowani użytkownicy, powracający na stronę, otrzymują informacje o promocjach na temat podróży do miejsc, którymi się interesują.
Ułatwienia dla użytkownika powiązane z jego lokalizacją. Strony aktywnie dostosowują się do lokalizacji użytkownika poprzez prezentację cen w walucie lokalnej lub przez przestawianie informacji w języku lokalnym (w wybranych przypadkach).
CRM — Personalizowane oferty. Dane gromadzone w systemie CRM zostały wykorzystane do budowania ofert przeznaczonych dla użytkowników o określonych preferencjach lub możliwościach finansowych.
CRM — Re-targeting. Dzięki zgromadzonym, choć nie wykorzystywanym wcześniej danym, firma mogła przygotować promocje dla klientów wstępnie zainteresowanych ofertą w przeszłości.
Lista preferencji i dedykowane promocje. Możliwość stworzenia przez klientów listy zainteresowań (na przykład — "interesują mnie bilety w klasie biznes w cenie poniżej kwoty X lub bilet do danego kraju w kwocie nie większej niż Y"). Powiązanie listy z powiadomieniami o promocjach generowało firmie nowe, ogromne możliwości sprzedaży.
Rezerwacja ceny. Możliwość wczesnej rezerwacji biletu z opcją zachowania stałej ceny przyspieszała decyzje klientów o zakupie biletów. Ich motywację dodatkowo zwiększała informacja o wzroście ceny, w przypadku braku dokonania płatności na 7 dni przed wylotem. Klient otrzymywał powiadomienie o kończącym się terminie oferty zakupu biletu w lepszej cenie, co zachęcało go do finalizowania transakcji.
Wdrożenie powyższych rozwiązań było możliwe dopiero wówczas, gdy klient rozwiązał problemy określone w mapie inicjatyw jako Enablers (ujęte w prawej kolumnie).Konieczna była zatem integracja czterech systemów CRM oraz agregacja wszystkich danych zgromadzonych również poprzez program lojalnościowy. To pozwoliło na personalizację i segmentację danych oraz uzyskanie pełnego obrazu o klientach. Wykorzystując wtyczki social media, firma mogła kreować konta klienta, a dodatkowe opcje zapewniła integracja z platformą podróży służbowych Concur.
Strategia danych napędza zmianę
Do wprowadzenia i odpowiedniego skalowania tych zmian, niezbędne były inwestycje w data science. Razem z klientem, zmapowaliśmy i przeanalizowaliśmy ich obecne procesy i strategie dotyczące danych. Po analizie, udało nam się określić i zbudować nową strategię danych, ktora miała angażować wszystkie jednostki biznesowe, w budowanie nowych modeli konsumenckich. Dodatkowo, strategia ta pomogła nam przejść z 4 systemów CRM na jeden, posiadający zunifikowany model konsumenta. Wykres poniżej pokazuje jak będzie wyglądał nowy proces biznesowy dotyczący zbierania danych.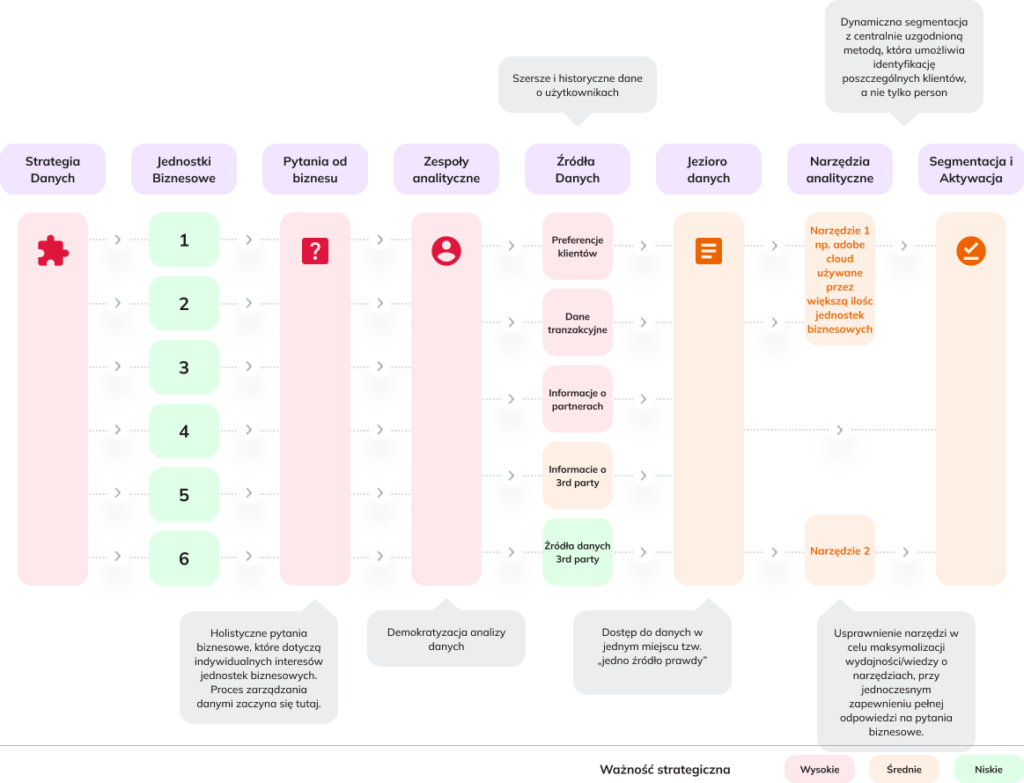 Efekty Transformacji Cyfrowej przeprowadzonej przez Digital Forms w liniach lotniczych — lidera w swojej branży
Wzrost sprzedaży w formie online o 7 punktów procentowych: z 15 na 22% — pół roku po wdrożeniu transformacji
Poprawa wskaźnika rekomendacji NPS (Net Promoter Score) z 15 do 42 w wyniku wprowadzenia nowej aplikacji oraz strony internetowej.
Redukcja kosztów związanych utrzymywaniem niepotrzebnych systemów lub integracją tych, które nadal są wykorzystywane, ale w pełniejszym wymiarze. Obniżenie kosztów rozbudowanego call center dzięki rozwinięciu cyfrowych kanałów sprzedaży.
Szybsze i bardziej efektywne generowanie leadów, wzrost konwersji i sprzedaży.
Poprawa Customer Experience we wszystkich punktach interakcji klienta z marką.
Podniesienie poziomu dojrzałości cyfrowej przedsiębiorstwa.
Integracja systemów, podejmowanie trafnych decyzji opartych na danych
Czy warto przeprowadzać Transformację Cyfrową?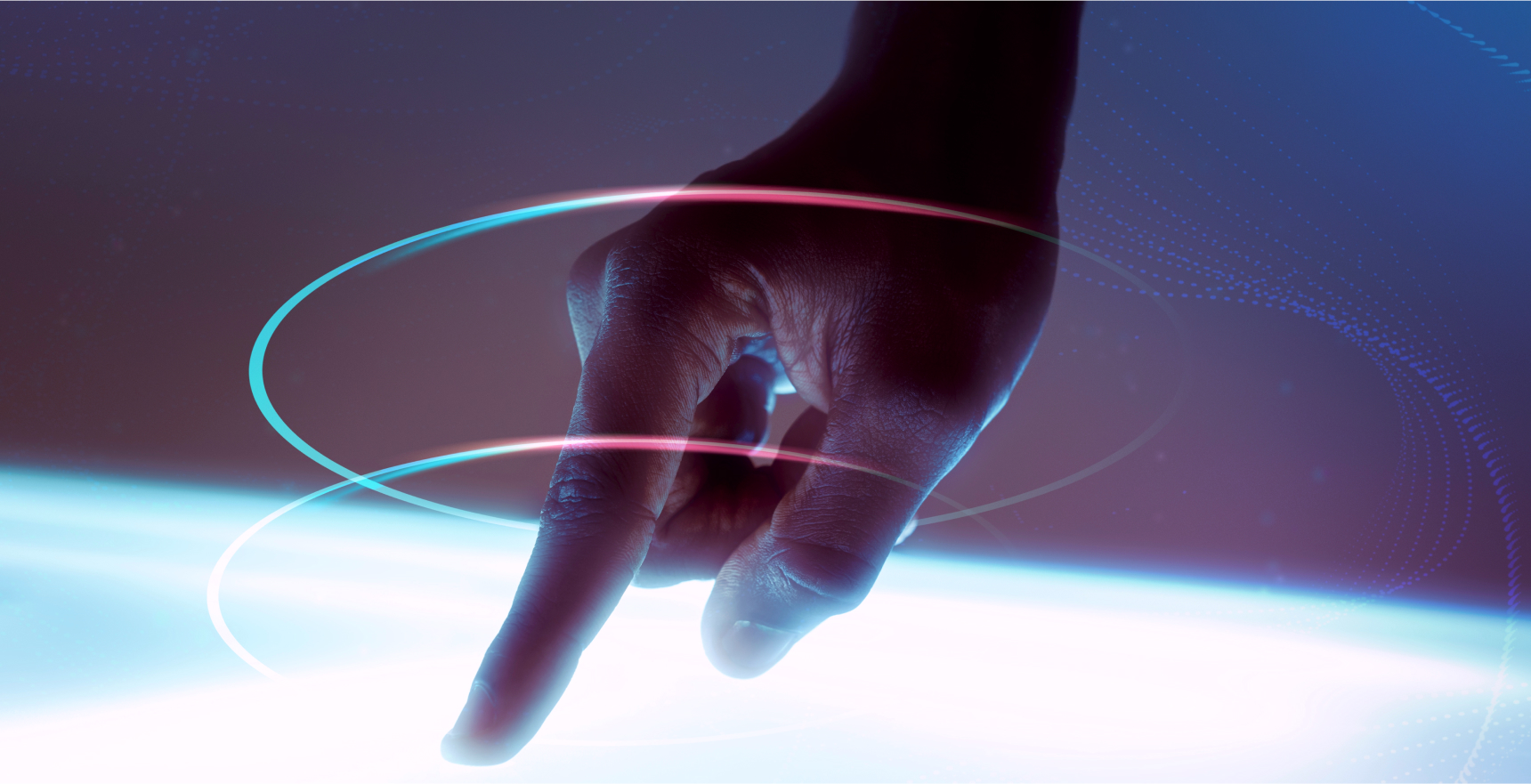 Przedsiębiorstwa, które zdecydowały się na przeprowadzenie Transformacji Cyfrowej swoich przedsiębiorstw, szybciej osiągają cele biznesowe, wzmacniając swoją pozycję konkurencyjną.
Dzięki obiektywnym analizom wykonanym przez specjalistów firmy uzyskują strategię digitalową. Określa ona wizję firmy, cyfrowe cele, strategiczne imperatywy i podstawy stanowiące fundament całej strategii.
Wynikiem Transformacji Cyfrowej jest również uzyskanie mapy inicjatyw, która określa cele strategiczne i grupy projektów, prowadzących między innymi do wzrostu sprzedaży oraz większej konwersji, ale też dzięki licznym ułatwieniom poprawiają doświadczenie klienta we wszystkich punktach integracji z marką.
W wyniku Transformacji Cyfrowej zmienia się nie tylko skala wykorzystywania technologii mająca wpływ na wzrost efektywności poszczególnych procesów, ale też zmienia się cała kultura firmowa i nastawienie zespołu. Staje się on gotowy, aby współtworzyć rozwój firmy, wprowadzać nowe rozwiązania i nieustannie wzmacniać jej potencjał.
Jeśli chcesz dowiedzieć się więcej na temat Transformacji Cyfrowej Twojego
przedsiębiorstwa zamów bezpłatną konsultację