Korzyści transformacji cyfrowej dla marketingu firm

14 czerwca 2023
Jak zdobyć uwagę klienta możliwie najniższym kosztem? Jak pozyskać nowych odbiorców i stale wzmacniać swoją pozycję rynkową? To codzienne pytania szefów marketingu, którzy mając ograniczony budżet, walczą o jak najwyższą skuteczność swoich działań, by zapewnić firmie stały dopływ zleceń. Transformacja cyfrowa to proces, który nie tylko ułatwia marketerom przeprowadzić kampanie promocyjne z wielką precyzją i skutecznością. To również proces, który pozwala trwale wzmocnić pozycję firmy, zostawiając konkurencję daleko w tyle.
Transformacja cyfrowa dla firm marketingowych i przedsiębiorstw
Nowoczesne technologie, regularne i celowe pozyskiwanie danych, czy sprawna obsługa klienta to niektóre efekty cyfrowej transformacji, niezbędne w skutecznym marketingu, niezależnie od jego skali. Zatem cyfrowa transformacja gwarantuje szereg korzyści zarówno wielkim agencjom marketingowym, jak i przedsiębiorstwom posiadającym swoje własne departamenty ds. marketingu.
Definicja transformacji cyfrowej
Na czym tak właściwie polega fenomen transformacji cyfrowej? To w pierwszej kolejności zmiana sposobu myślenia o firmie, inne podejście do zarządzania i wreszcie skuteczny sposób działania. Wykorzystanie nowych technologii jest jedynie wynikiem powyższego i środkiem do osiągnięcia poszczególnych celów.
Zmiana sposobu myślenia to przede wszystkim koncentracja na danych, które są podstawą do podejmowania dobrych decyzji. To również budowanie odpowiednich procesów, dzięki którym znika chaos i nadmierna improwizacja, która rzadko okazuje się skuteczna, a jeszcze rzadziej bezkosztowa.
Działanie, z kolei, bazujące na świadomym korzystaniu z nowoczesnych technologii, przyspiesza poszczególne procesy. Wpływa to między innymi na szybkie wyciąganie wniosków, sprawną obsługę klienta, czy natychmiastową analizę danych. Ta z kolei umożliwia optymalizację, a tym samym wzrost skuteczności podjętego działania (np. kampanii reklamowej).
Najważniejsze korzyści z transformacji cyfrowej
1. Szybki dostęp do danych
Dane mają kluczowe znaczenie dla osiągnięcia wysokiej skuteczności działań marketingowych. Pozwalają lepiej rozumieć zachowania klientów, ich preferencje i rzeczywiste zapotrzebowanie. Jak je zdobywać? Najlepiej na dużą skalę. I tu właśnie niezbędne są narzędzia cyfrowe, dzięki którym będzie to możliwe.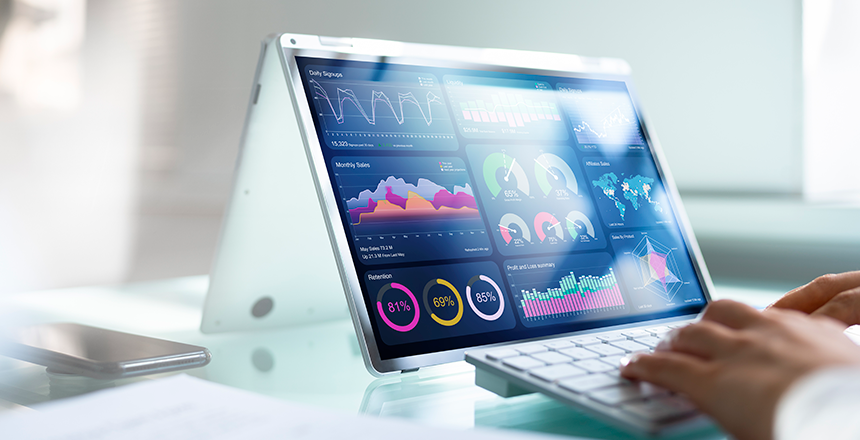 Strony WWW
Jednym z pierwszych przykładów jest analityka internetowa, czyli weryfikacja zachowań klientów na stronie WWW. Korzystając np. z Google Analytics, sprawdzisz ruch na stronie, źródło tego ruchu, czy czas, który odbiorcy spędzają w witrynie firmowej. Dzięki temu dowiesz się skąd pozyskujesz najwięcej odbiorców, i w które kanały warto inwestować. Odcinasz także nieskuteczne działania, obniżając swoje koszty.
Social Media
To kopalnia informacji, zarówno ilościowych, jak i jakościowych. Prowadząc konto, możesz poznać opinie klientów na poszczególne tematy, ale odczytasz też dane na temat zasięgu poszczególnych postów lub reklam, liczby reakcji czy zrealizowanych zakupów. Dzięki tym danym łatwo poznasz preferencje klientów oraz skuteczność poszczególnych akcji, które możesz optymalizować w czasie rzeczywistym.
Aplikacje mobilne
W dzisiejszych czasach aplikacje mobilne są coraz bardziej popularnym narzędziem dla marketingowców. Wiele aplikacji wymaga rejestracji, skłaniając użytkowników do pozostawienia cennych danych. Właściciele aplikacji mogą analizować zachowanie klientów, ich preferencje czy lokalizację — co pozwala im tworzyć jeszcze bardziej precyzyjną i dopasowaną ofertę.
Platformy e-commerce
Porzucone koszyki, historia zamówień czy skłonność do korzystania z promocji, to jedynie kropla w morzu danych, które można uzyskać analizując zachowania klientów w sklepach internetowych.
Scentralizowane centrum danych online
Liderzy biznesu są coraz bardziej świadomi możliwości, jakie oferuje zbieranie oraz przetwarzanie danych. Jednak dużo większą rolę odgrywa świadoma analiza i skuteczne wykorzystywanie dostępnych zasobów, a to jest zdecydowanie łatwiejsze jeśli przedsiębiorstwo korzysta z jednego, globalnego źródła danych, które gromadzi wszystkie informacje o klientach.

Bardzo często okazuje się, iż dane są rozproszone w wielu działach organizacji, jednak brakuje jednego globalnego systemu. Transformacja cyfrowa pozwala skutecznie wyeliminować taką sytuację, wprowadzając czytelny system — scentralizowany dostęp — z którego korzysta cała organizacja.
2. Lepsze dopasowanie oferty do potrzeb klientów
Zebrane dane, a właściwie nieustanne ich gromadzenie — to podstawa. Jednak kluczową rolę dla przedsiębiorstwa pełni klient, a dokładniej: pozytywne doświadczenie klienta, które jest paliwem dla dalszego rozwoju przedsiębiorstwa.
Dlatego w wyniku transformacji cyfrowej firmy uczą się nie tylko gromadzić dane, ale również skutecznie z nich korzystać, aby w jeszcze większym stopniu odpowiadać na potrzeby rynku.
Przykładem mogą być rekomendacje produktów na podstawie wcześniejszych zachowań klientów w sklepie internetowym. To również dostosowywanie treści mailingu do poszczególnych grup odbiorców, czy dopasowywanie kampanii reklamowych do preferencji użytkowników. Dane są również wykorzystywane w procesie tworzenia produktu, tak aby w jak największym stopniu był on dostosowany do wymagań klientów.
3. Precyzyjna komunikacja dopasowana do odbiorcy
Transformacja cyfrowa przyczynia się do wzmocnienia relacji z klientami. Narzędzia cyfrowe pozwalają firmom skuteczniej i efektywniej komunikować się ze swoimi odbiorcami i na bieżąco reagować na ich potrzeby.
Regularna wysyłka newsletterów, kontakt z klientami w social media, chatboty czy aplikacje mobilne — zapewniają firmie regularny, spersonalizowany i efektywny kontakt z dużą liczbą odbiorców, z którą nie sposób byłoby kontaktować się bez wykorzystywania technologii cyfrowych.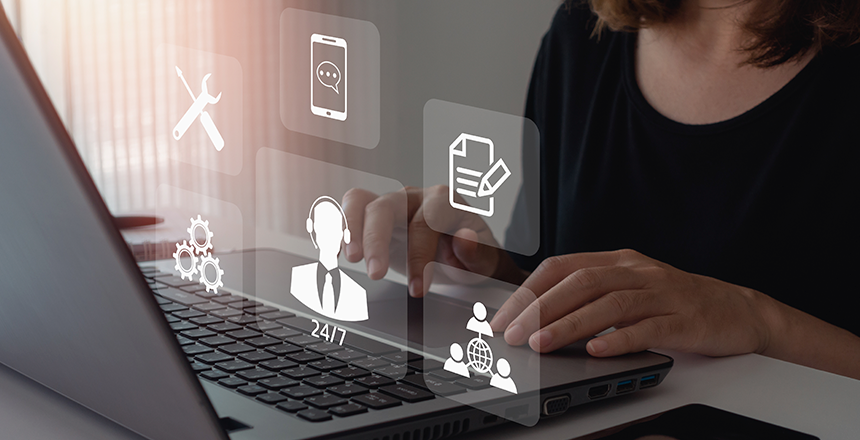 4. Wyższy poziom obsługi klienta
W ostatnich latach przewagę konkurencyjną najszybciej zdobywają te organizacje, które zapewnią doskonałą obsługę swoich klientów. Jak wykorzystać transformację cyfrową do tego, by osiągnąć najwyższy poziom w swojej branży?
Odpowiedzią jest automatyzacja procesów, którą warto włączyć w celu optymalizacji wydajności kontaktów z klientami, realizacji zamówienia, obsługi posprzedażowej czy pozyskiwania opinii.
Nie ma dzisiaj miejsca na brak natychmiastowej odpowiedzi na zapytania klientów, a wyścig o ponowne zlecenia zaczyna się już w trakcie bieżących transakcji. To na ich podstawie odbiorcy decydują, czy satysfakcjonuje ich czas, forma i sposób komunikacji — i czy warto powtórzyć ją w przyszłości, czy lepiej trwale porzucić markę na rzecz konkurencji. Kto może pozwolić sobie na drugi wariant? Odpowiedź nasuwa się sama, dlatego procesy transformacji cyfrowej mają tak ogromne znaczenie dla konkurencyjności przedsiębiorstw.
5. Większa skuteczność w pozyskiwaniu leadów
Jak pozyskać więcej leadów i zamówień? Również dzięki transformacji cyfrowej — oczywiście, jeśli interesuje Cię duża skala zmian. Każdy z opisanych powyżej aspektów, od pozyskiwania i świadomego wykorzystywania danych, poprzez personalizację oferty, po komunikację czy doskonałą obsługę klienta — będzie miał pośredni wpływ na budowanie pozytywnego wizerunku twojej firmy. Tym samym w ogromnym stopniu zwiększysz swoje szanse na nowe zamówienia.
To jednak nie wszystkie możliwości, które oferuje transformacja cyfrowa. Jednym z narzędzi, który skutecznie wspomaga pozyskiwanie leadów i zwiększenie liczby transakcji, jest marketing automation. Dzięki zautomatyzowanym procesom marketingowym możliwe jest prowadzenie kampanii reklamowych w sposób bardziej precyzyjny i skuteczny. Narzędzia do automatyzacji marketingu pozwalają na personalizację przekazu, dobieranie odpowiednich kanałów komunikacji i automatyczne generowanie treści, a także ich dystrybucję. W ten sposób skuteczniej dotrzesz do swojej grupy docelowej i zachęcisz ją do zakupu.
6. Niższe koszty pozyskiwania klientów i lepsze wskaźniki kampanii promocyjnych
Im większa precyzja działania, lepsze dopasowanie oferty do grupy docelowej, czy większy rozwój automatyzacji procesów, który pozwoli odciążyć zasoby ludzkie — tym koszt dotarcia do klienta jest niższy. Oprócz wykorzystania danych w celu optymalizacji działań, warto stale wprowadzać dodatkowe rozwiązania cyfrowe, które jeszcze bardziej wzmocnią skuteczność marketingu twojej firmy.
Przykładem może być marketing szeptany w social media. Klienci zafascynowani nowymi produktami pochodzącymi z twojej oferty mogą podzielić się opinią na kontach firmowych. Informacja producenta, czy dystrybutora nigdy nie będzie aż tak wiarygodna jak polecenie przez innego użytkownika, jeśli oczywiście jego profil będzie prawdziwy i nie wzbudzi żadnych negatywnych skojarzeń.
Warto więc budować społeczność, dostarczając jej dobrze dopasowane treści (niekoniecznie najciekawsze dla Ciebie, ale przede wszystkim dla odbiorców). Zyskasz wówczas ambasadorów swojej marki, którzy mogą wielokrotnie wykonać dla Ciebie "bezkosztową" reklamę. Dbaj o nich!
7. Mocna pozycja konkurencyjna
Zbudowanie mocnej pozycji konkurencyjnej to zaszczepienie w kulturze organizacyjnej gotowości do wprowadzania ciągłych zmian. To nastawienie na nieustanny rozwój, otwarcie na wykorzystanie nowych technologii i nowe procesy cyfrowe. Firma, chcąc uzyskać mocną pozycję w swojej branży, musi postawić w centrum swojego odbiorcę i dążyć do tego, by stale wzmacniać pozytywne doświadczenia klienta. Rolą marketingowców jest nie tylko działanie w tym kierunku, ale również przekonanie pozostałej części zespołu, aby cała firma kierowała się podobnym podejściem,
W dłuższej perspektywie transformacja cyfrowa przynosi firmie niepodważalne korzyści. Trudno dogonić organizację, która bazuje na precyzyjnych danych, potrafi je wykorzystywać do budowania dopasowanego komunikatu oraz idealnie skrojonej oferty.
Będąc klientem, nie sposób natomiast odwrócić się od propozycji zamówienia, które nawiązuje do poprzednich zakupów — uzupełniając je w punkt. Zwłaszcza jeśli oferta pojawia się w dokładnie oczekiwanym momencie i pozwala zaoszczędzić konkretną kwotę dzięki specjalnie przygotowanym rabatom.
Marketerzy z łatwością są w stanie oszacować skuteczność swoich działań dzięki możliwości analizy danych w czasie rzeczywistym. Wykorzystanie sztucznej inteligencji, automatyzacji procesów czy potencjału social media pozyskują szereg opcji, których nie byliby stanie uzyskać na tak dużą skalę bez przeprowadzenia transformacji cyfrowej.
Innymi słowy, ogromne znaczenie transformacji cyfrowej jest dzisiaj bezdyskusyjne. Jak więc przeprowadza się w firmach cyfrowe procesy?
Jak przebiega proces transformacji cyfrowej?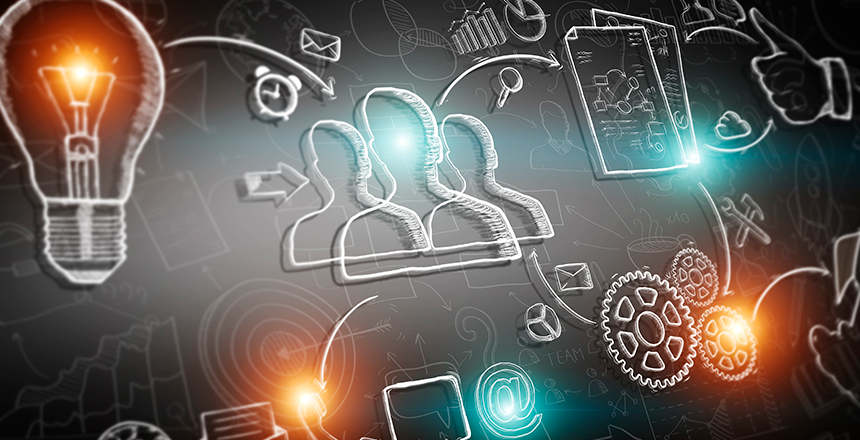 Warunkiem, by transformacja cyfrowa i digitalizacja marketingu przebiegła pomyślnie jest przeprowadzenie jej według ściśle określonych etapów. Pierwszym z nich jest weryfikacja strategii firmy. Polega to na dokładnej analizie celów i planów biznesowych, które są potrzebne do osiągnięcia sukcesu w dłuższej perspektywie. Następnym etapem jest analiza odbiorców i weryfikacja poziomu dojrzałości marketingowej przedsiębiorstwa, co pozwala na lepsze zrozumienie potrzeb klientów i dobór właściwych narzędzi.
Kolejnym krokiem jest przeprowadzenie audytu procesów, co umożliwi zidentyfikowanie obszarów, które wymagają zmiany i usprawnienia. Następnie należy wybrać odpowiednie narzędzia, które pomogą w realizacji celów transformacji cyfrowej.
Weryfikacja potrzeb i problemów stanowi kolejny etap, który pozwala na dostosowanie strategii do aktualnych potrzeb i wyzwań. Finalnie należy zbudować właściwe procesy i przeprowadzić ich digitalizację, co umożliwi lepsze zarządzanie nimi oraz usprawni pracę całej firmy.
Transformacja cyfrowa to proces złożony, ale dzięki właściwej analizie i planowaniu możliwe jest jej przeprowadzenie w sposób skuteczny i efektywny.
Współpraca w zakresie transformacji cyfrowej
Aby przeprowadzić udaną transformację cyfrową, warto wybrać profesjonalnego partnera, czyli firmę, która może potwierdzić długie doświadczenie we współpracy z biznesem, a także ma mocne zaplecze techniczne. Każdy z tych dwóch warunków jest nieodzowny, aby transformacja cyfrowa, w tym digitalizacja marketingu przebiegła pomyślnie.
Projekty transformacji cyfrowej a cyberbezpieczeństwo
Cyfryzacja marketingu daje szalenie duże możliwości. Warto jednak pamiętać, że łączy się z nią temat ochrony danych osobowych. Ze względu na pozyskiwanie i gromadzenie czy przetwarzanie danych użytkowników, firmy muszą poważnie traktować cyberbezpieczeństwo. Z jednej strony pozwoli im to na działanie zgodne z prawem, z drugiej natomiast wzmocni wiarygodność i pomoże zwiększyć poziom zaufania klientów, bez którego nie ma szans na pozostawienie swoich danych.
Czy warto inwestować w cyfrową transformację?
To prawda, że z transformacją cyfrową wiążą się konkretne koszty. Pochłania ona też spore zasoby, takie jak czas i energię wielu osób. Jednak są one niczym w porównaniu z ogromem korzyści, jakie firma może uzyskać między innymi w obszarze marketingu.
Przemyślane wykorzystywanie nowych technologii cyfrowych znacznie przyspiesza wszelkie procesy — od zdobywania leadów, poprzez tworzenie spersonalizowanych ofert, skuteczne komunikowanie się
z odbiorcami, czy analizę i optymalizację działań.
Precyzja działań marketingowych, oznacza ich większą skuteczność, a to z kolei gwarantuje obniżenie kosztów dotarcia do odbiorcy i pozyskania zamówień.
Podobnie w przypadku automatyzacji, która odciąża pracowników od wykonywania powtarzalnych czynności, dając przestrzeń na kreowanie nowych pomysłów i ciekawych rozwiązań, wyróżniających firmę na tle konkurencji.
Dzięki trafionej komunikacji, dopasowanej ofercie i niepodważalnie wysokiej jakości obsługi — wzrasta poziom satysfakcji odbiorców marki, którzy stają się nie tylko lojalnymi klientami, ale bardzo często pełnią rolę ambasadorów w przestrzeni wirtualnej oraz offline.
Chcesz przeprowadzić transformację cyfrową w swoim przedsiębiorstwie?
Zgłoś się na bezpłatną konsultację do Digital Forms.