Klienci uciekają?! Analizuj ścieżki podróży klienta, a dowiesz się jak ich zatrzymać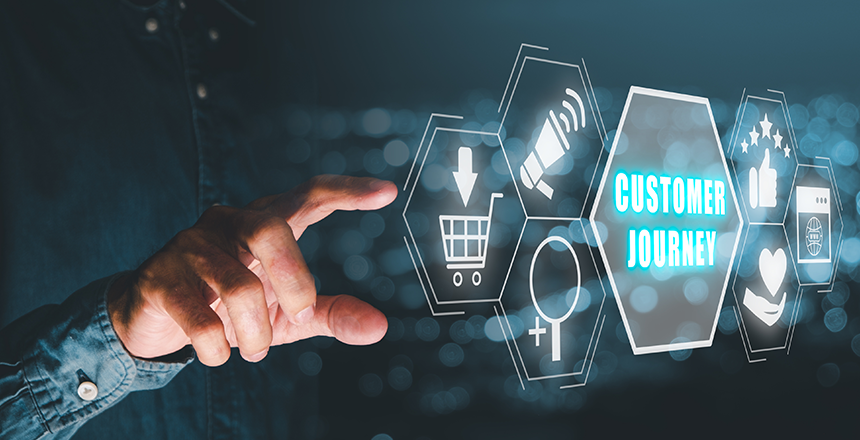 28 czerwca 2023
Lojalność klienta jest wynikiem bardzo wielu czynników. Pierwszym skojarzeniem jest satysfakcja z produktu lub usługi. Warto jednak sobie uświadomić, że profesjonale wykonywanie działalności to tylko jeden z elementów, które wpływają na customer experience. Chcąc zadbać o wszystkie decydujące aspekty, trzeba je najpierw zidentyfikować, a następnie zwizualizować. Do tego służy mapa podróży klienta. Dzięki niej wzmocnisz pozytywne doświadczenia klientów na każdym punkcie styku z marką. Każdy z tych punktów ma ogromną wagę — decyduje czy klient dokona w przyszłości transakcji w Twojej firmie, czy u konkurencji, albo też całkowicie porzuci pomysł realizacji tego zamówienia.
Customer Experience w procesie interakcji z marką
Czy chciałbyś, aby Twój klient był zawsze zadowolony z kontaktu z Twoją firmą? No pewnie! To było pytanie retoryczne. Ale zwróć uwagę na słowo "zawsze". Ma ono większe znaczenie, niż myślisz.
Dlaczego? Ponieważ nie chodzi tylko o to, aby odbiorca był zadowolony gdy już złoży zamówienie i otrzyma swój produkt. Często do tego etapu docierają tylko najwytrwalsi. Prawdziwy sukces polega na tym, aby klienci byli zadowoleni już w pierwszej sekundzie spotkania z marką. Na przykład gdy widzą reklamę lub gdy przeglądają stronę internetową. To właśnie te momenty sprawiają, że klient decyduje się na dalszą interakcję lub odrzuca propozycję.
Mapowanie podróży klienta
Mapowanie podróży klienta jest procesem, który polega na analizie oraz wizualizacji wszystkich punktów styku odbiorcy z twoją marką. Podstawą Customer Journey Mapping jest:
wejście w rolę klienta,
poznanie jego perspektywy,
identyfikacja mocnych stron procesu,
wyszczególnienie wszystkich słabych elementów celem dalszej optymalizacji.
Dlaczego warto wykonać mapowanie podróży klienta? Po to, aby minimalizować jakąkolwiek niepewność odbiorcy, ponieważ doprowadza ona do rezygnacji z dalszej interakcji, w tym składania zamówień. Firma traci leady, zlecenia lub stałych odbiorców, często nie zdając sobie nawet z tego sprawy.
Mapowanie ścieżki podróży klienta to doskonały punkt wyjścia do stworzenia nowego procesu, w którym użytkownicy intuicyjnie przejdą przez kolejne etapy interakcji z marką. Ich satysfakcja może wynikać z dobrego dopasowania reklamy do ich zainteresowań, ciekawego — trafnego przekazu, komunikacji współgrającej z ich stylem bycia, łatwego sposobu realizacji zamówienia, uzyskaniu szybkich informacji o terminach dostawy, czy wreszcie z uzyskania świetnej jakości produktu lub fantastycznej usługi popartej profesjonalną obsługą klienta. Jeśli każdy z etapów będzie doskonały — Twój potencjalny klient stanie się klientem powracającym, a Ty możesz liczyć na wiele pozytywnych opinii — oczywiście jeśli przygotujesz taką formę ankietowania, która nie sprawi użytkownikom najmniejszego kłopotu.
Tworzenie mapy podróży klienta w praktyce
Jak tworzyć mapy podróży klienta? Warto uczyć się na przykładach innych firm. Przyjrzyjmy się zatem mapowaniu stworzonemu dla jednej z wiodących linii lotniczych w Wielkiej Brytanii. Digital Forms przeprowadziło tam pełną  transformację cyfrową, w której Customer Journey Mapping było nieodzownym elementem.

Proces składał się z kilku następujących kroków:
Identyfikacja etapów ścieżki klienta w procesie jego kontaktu z firmą
Pierwszy ważny moment to pojawienie się pomysłu o podróżowaniu. Klient zastanawia się wówczas gdzie, kiedy i na jak długo chciałby pojechać. To bardzo świeże idee i warto je podtrzymać, wzbudzając coraz większe zainteresowanie. Ogromną rolę odgrywa wówczas przekierowanie klienta na kolejne strony, na których znajdzie takie treści, dzięki którym będzie pewien, że pozostanie w domu, nie ma najmniejszego sensu. Najważniejsza jest podróż!
W drugim etapie pojawia się już świadomość i spotkanie z marką. Kolejnym — rozważenie zakupu, a dopiero następnie — transakcja i realizacja usługi. Równie istotna jest identyfikacja "strefy pozakupowej", która ma niebagatelny wpływ na lojalność odbiorców i ich dalsze decyzje.

W przypadku linii lotniczych zidentyfikowaliśmy takie elementy jak: inspiracja do podróży, analiza miejsc docelowych destynacji, wyszukiwanie oferty, rezerwacja i zakup biletów, organizacja wylotu (m.in. dojazd na lotnisko, czy check-in), lot — wraz z usługami pokładowymi, a następnie odbiór bagażu, podejmowanie decyzji o ponownym skorzystaniu z usług czy przekazaniu pozytywnych rekomendacji.

Mapowanie punktów styku klienta z marką
Ten etap polega na tym, aby określić wszystkie punkty styku odbiorców z firmą. W przypadku pasażera jest to strona internetowa linii lotniczych w czasie, gdy weryfikuje on informacje o możliwych destynacjach, to również reklamy linii w social media, system rezerwacji biletów, lotnisko i poszczególne etapy przygotowania do lotu, kontakt z załogą pokładową podczas lotu czy ponowna wizyta na stronie WWW i social media już po zakończonej podróży.
Analiza emocji i potrzeb klienta oraz identyfikacja problemów i obszarów do poprawy

Jako przedsiębiorca doskonale wiesz, jaką rolę odgrywają pozytywne i negatywne emocje klienta w procesie sprzedaży. Chodzi więc o to, by zrobić wszystko, aby były one pozytywne w każdym punkcie styku klienta z marką. Z kolei precyzyjna identyfikacja potrzeb pozwoli przygotować dokładną odpowiedź i przekierować klienta do kolejnego etapu.

W przypadku pasażerów linii lotniczych okazało się, że jedną z pierwszych potrzeb była wygoda w procesie planowania podróży. Niewielu klientów ma na tyle dużo czasu, aby swobodnie przeglądać dziesiątki ofert i następnie samodzielnie konfigurować całą podróż. Dużo lepiej sprawdzają się gotowe podpowiedzi i propozycje, które prowadzą klienta za rękę, zbliżając go do dokonania transakcji.
Częstą emocją, która towarzyszyła pasażerom, była obawa i niepewność. Nie otrzymując powiadomień, klienci nie wiedzieli, czy lot jest dobrze zarezerwowany, nie mieli pewności, gdzie jest ich bagaż i jak można to sprawdzić. Nie znali wszystkich opcji dotarcia na lotnisko i nie byli dostatecznie poinformowani, czy mają dostęp do usług dodatkowych.
Tworząc mapę podróży klienta, pomogliśmy przedsiębiorstwu zidentyfikować emocje i zapotrzebowania, co było punktem wyjścia do wprowadzenia zmian. W efekcie firma zadbała o pozytywne doświadczenie klienta jeszcze na długo przed lotem i również po nim. 
Opracowanie strategii doskonalenia doświadczeń klienta
Identyfikacja etapów, określone punkty styku klienta z marką czy potrzeby — to materiał niezbędny do opracowania strategii doskonalenia doświadczeń. Dzięki nim marka ma szansę wdrożyć takie rozwiązania, które będą rzeczywistą odpowiedzią na zapotrzebowanie rynku, a tym samym stworzy bazę do swojego rozwoju.

W przypadku linii lotniczych strategia objęła wiele rekomendacji. Wśród nich warto wyróżnić personalizowane podstrony. Dzięki zebranym informacjom na temat kierunków podróży, którymi interesował się wcześniej pasażer, firma mogła przygotować dedykowane podpowiedzi, które rzeczywiście zainteresują odbiorcę i skłonią go do szybszego podejmowania decyzji. Dalszy etap to personalizowane promocje na lot do miejsc, które najbardziej interesują klienta. Tym samym marka spowodowała, że znacznie mniej klientów rezygnowało z jej usług, a więcej decydowało się na zamówienie. Warto zwrócić uwagę, że żadne z tych działań nie objęło jeszcze samego core działalności — czyli lotu. Firma rozpoczęła walkę o klienta długo przed startem. 
Ponadto linie wprowadziły szereg ułatwień, takich jak wcześniejsza rezerwacja biletów z opcją zachowania stałej ceny. Zadbały o powiadomienia o wzroście cen w przypadku dokonania płatności zbyt blisko terminu wylotu (mniej niż 7 dni), co również skłoniło do szybszych zakupów.
Sam system rezerwacji biletów został przebudowany w taki sposób, by jego obsługa była maksymalnie intuicyjna, a powiadomienia zawierały wszystkie interesujące klientów informacje.

Doświadczenie klienta z firmą a wzrost przychodów
Po wykonaniu analiz okazało się, że lider linii lotniczych miał doskonałą usługę lotu, jednak bardzo słabo opracowane wszelkie wcześniejsze i późniejsze punkty styku pasażerów z marką.
To niwelowało szansę na wzrost przychodów i wpływało na pogarszanie się pozycji firmy.
Doświadczenie klienta w trakcie lotu było rewelacyjne. Jednak sposób udostępnianie wiedzy na temat organizacji podróży pozostawiał bardzo wiele do życzenia. Klienci nie otrzymywali odpowiednich informacji na temat dotarcia na lotnisko, miejsca na pozostawienie bagażu, czy potwierdzenia swoich lotów. Już sama rezerwacja biletów stwarzała ogrom problemów. To wszystko przyczyniało się do niskiego komfortu, negatywnych doświadczeń klientów na wielu etapach podróżowania, które przecież nie zaczyna się z chwilą startu samolotu, ale dużo, dużo wcześniej.
W efekcie marka otrzymywała złe opinie i niskie noty. Późniejsza poprawa tych punktów oraz skupienie się na doskonaleniu doświadczenia klienta przyczyniły się natomiast do lepszego postrzegania marki i wzrostu satysfakcji klientów.

W rezultacie skoncentrowanie się na customer experiecnce stało się kluczowym celem dla linii lotniczych w dążeniu do wzrostu przychodów i umocnienia swojej pozycji na rynku.
Stwórz mapę podróży klienta a zwiększysz liczbę zamówień

W badaniu doświadczenia klienta chodzi o to, by nie skupiać się na oczywistościach. Jeśli naprawiasz samochody, z pewnością zadbałeś już o świetnych mechaników, którzy mają talent i doskonałe kwalifikacje.
Narzekasz jednak na zbyt mało potencjalnych klientów? Sprawdź, jak się komunikujesz z tymi, którzy jeszcze do Ciebie nie dotarli. Wiedz, że jest ich znacznie więcej, niż może Ci się wydawać. Na ich decyzję wpływa wiele czynników, na przykład pozytywne opinie innych klientów. Zweryfikuj więc, czy zachęcasz ich do przekazywania dobrych informacji o Twojej firmie i czy ułatwiasz zostawianie opinii w Internecie. A jeśli już o nim mowa, zweryfikuj sposób komunikacji na stronie internetowej lub w social media.
Przeanalizuj możliwe potrzeby, z którymi klienci spotykają się jeszcze przed dokonaniem wyboru. Muszą wiedzieć, ile potrwa usługa, jak się dowiedzą o jej postępach, kiedy poznają dokładny koszt i czy na pewno naprawa będzie profesjonalna. Im mniej wątpliwości ma klient, tym więcej punktów dla Ciebie.
Zadbaj o dobry kontakt klientów z pracownikami firmy i przeanalizuj wszystkie aspekty obsługi posprzedażowej. Zweryfikuj wygląd swojego przedsiębiorstwa i na każdym etapie zadbaj, aby wnioski formułować z perspektywy klienta.
Niezależnie od rodzaju branży, w centrum działalności musi znaleźć się pozytywne doświadczenie klienta. Kluczem do sukcesu nie jest tylko maksymalne podnoszenie poziomu zadowolenia w jednym punkcie — czyli podczas realizacji usługi. Istota leży w rozpoznaniu oczekiwania klientów na całej ścieżce ich podróży.
Jeśli szukasz profesjonalnego partnera, z którym stworzysz mapę podróży klienta i przeprowadzisz transformację cyfrową — skontaktuj się z DigitalForms
Zapraszamy na bezpłatną konsultację