Co to jest transformacja cyfrowa?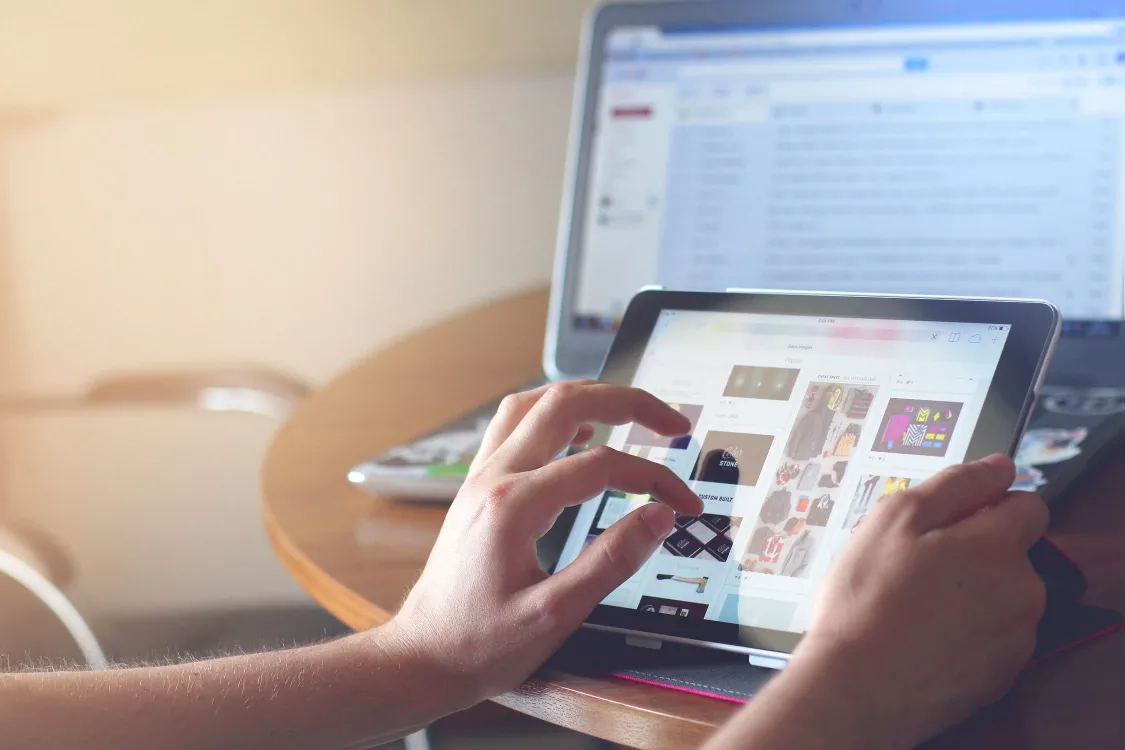 9 listopada 2022
Transformacja cyfrowa polega na uzyskaniu przez organizację wysokiej efektywności działania — wielokrotnie większej niż przed dokonaniem zmian. To przeobrażenie poszczególnych obszarów funkcjonowania firmy w innowacyjne procesy zintegrowane z technologią cyfrową.
Cyfrowa transformacja to zmiana ukierunkowana na rozwój. Nowa skala działania. Wyprzedzanie innych graczy. Wspieranie klienta. Usprawnienie organizacji. Lepsze wykorzystanie danych i możliwości sztucznej inteligencji. Nowoczesne modele biznesowe, uczenie maszynowe czy internet rzeczy. Jednym słowem: wejście firmy na wyższy poziom.
Transformacja cyfrowa wymyka się prostym definicjom, gdyż jej efekty są wszechstronne. Kluczowe znaczenie ma tutaj zmiana myślenia o organizacji i jej rozwoju. Przyjrzyjmy się zatem kilku przykładom, które pozwolą lepiej zrozumieć ideę, a także sam proces transformacji cyfrowej w biznesie.
Jak działa transformacja cyfrowa i dlaczego jest taka ważna?
Wyobraź sobie, że musisz pokonać 750 km, aby dostarczyć ważną przesyłkę. Ponadto wiesz, że od tego, czy dowieziesz ją na czas, zależy los Twojej firmy. Masz przed sobą podróż nieremontowaną drogą krajową, a Twój wóz to fiat 126 p. w uroczym morskim kolorze. Dojedziesz? Pewnie! Od tego zależy los Twojej firmy. Będziesz tam szybko? Niekoniecznie. Wrócisz zmęczony? Potwornie! Ile spraw załatwisz w międzyczasie? Żadnej innej. No może jedną, dwie. Tylko pamiętaj — nie masz smartphone'a.
A teraz pomyśl, że Twoi konkurenci dostarczają podobną przesyłkę, ale pędzą autostradą i mają do dyspozycji inny, dowolny samochód, wyprodukowany po 2020 roku. Podobnie jak Ty dojadą do celu, tyle że szybciej, wygodniej, a po powrocie załatwią wiele nowych spraw, gdy Ty jeszcze będziesz w podróży. W dodatku dzięki nawigacji unikną pomyłek i trafią na miejsce bez szukania właściwego adresu. Te dwa światy to życie przed i po transformacji. Co prawda nie tej cyfrowej, ale również totalnej przemiany, która diametralnie zmienia efektywność działania.
Jeśli zastanawiasz się, na czym polega transformacja cyfrowa, w pierwszej kolejności pomyśl o tym przykładzie. W transformacji cyfrowej nie tylko chodzi o wprowadzenie nowych technologii, inwestowanie w najdroższe oprogramowanie czy duże zbiory danych, to przede wszystkim stałe udoskonalanie procesów i poszukiwanie nowych rozwiązań, których efektem jest pojawiająca się w firmach nowa technologia.
Cyfrowa transformacja pozwala na rozwój każdego aspektu prowadzenia biznesu od agregacji danych i ich późniejszej interpretacji, poprzez sposób obsługi klienta, czy oferowanie lepszych produktów i usług, po analizę kosztów, sprawny obieg dokumentów, trafne prognozowanie i finalnie: efektywne realizowanie celów biznesowych.
Transformacja cyfrowa korporacji i sektora MŚP
Czy transformacja cyfrowa jest przeznaczona tylko dla największych przedsiębiorstw? Z raportu ManpowerGroup z 2021 r. wynika, że owszem liderzy biznesu (około 30% dużych firm) zadeklarowali wprowadzenie w życie celów transformacji cyfrowej. Jednak zmiany obejmują także sektor MŚP: 13% średnich przedsiębiorstw, 13% małych i 7% mikro firm także zaplanowało dynamiczny proces cyfryzacji w swoich organizacjach, co w ostatnich lataach zostało wywołane w dużej mierze pandemią koronawirusa.
Przedsiębiorstwa, niezależnie od ich wielkości i zasobności budżetów, coraz częściej uważają, że kluczową rolę dla rozwoju odgrywają dobrze określone procesy, precyzja działania, przemyślana kolejność wprowadzania poszczególnych rozwiązań. Stąd w dzisiejszych czasach zainteresowanie cyfrową transformacją rośnie również w sektorze MŚP.

Kiedy warto zdecydować się na wdrożenie nowoczesnych procesów biznesowych?
Pytanie o termin wdrożenia nowoczesnych procesów biznesowych to pytanie o chęć wypracowania większego zysku. Każda firma potrzebuje go jak powietrza — im wcześniej, tym lepiej. To, co faktycznie należy rozważyć, to formę przeprowadzenia transformacji czy kolejność integrowania wybranych procesów z technologiami cyfrowymi. W tym celu należy przeprowadzić dogłębną analizę digitalizacji branży i porównać ją z wewnętrzną sytuacją firmy. To zadanie dobrze jest powierzyć specjalistom. Eksperci transformacji w obiektywny sposób ocenią poziom cyfryzacji organizacji, a ich doświadczenie pozwoli opracować profesjonalną strategię transformacji cyfrowej.
Jakie korzyści dla przedsiębiorstwa niesie transformacja cyfrowa?
Transformacja cyfrowa organizacji pozwala jej uzyskać większą efektywność działań na każdym poziomie. Modyfikuje procesy, upłynniając przepływ informacji. Ułatwia zbieranie danych, ale również ich właściwą analizę i wnioskowanie. To z kolei pozwala precyzyjnie komunikować do wybranej grupy docelowej. Dane firmowe to także wewnętrzne źródło wiedzy o kosztach prowadzonej działalności. Wprowadzenie digitalizacji procesów ułatwia szybką i precyzyjną analizę wydatków, usprawniając kontrolę nad wskaźnikami rentowności w czasie rzeczywistym. Transformacja cyfrowa w biznesie to nade wszystko umiejętność pozyskiwania klientów i wywieranie na nich pozytywnego wrażenia, tak aby budować i wzmacniać relację z marką.
Podsumowując, dzięki transformacji cyfrowej, przedsiębiorstwa zyskują szereg korzyści we wszystkich obszarach związanych z prowadzeniem swojej działalności.

Pozytywne efekty cyfrowej transformacji
Wzrost efektywności dzięki automatyzacji procesów,

Poprawa jakości obsługi klienta za sprawą narzędzi cyfrowych i nowych technologii, które pozwalają badać, a następnie poprawiać doświadczenia klienta,

Zwiększenie innowacyjności oferty dzięki możliwościom, jakie oferuje sztuczna inteligencja,

Szybsze dostosowanie się do zmian zachodzących w branży dzięki przejściu na kulturę zwinnej organizacji,

Usprawnienie współpracy międzyzespołowej za sprawą platform i rozwiązań, jakie oferują narzędzia cyfrowe,

Podniesienie efektywności marketingowej,

Lepsza analiza danych dzięki odpowiedniemu zarządzaniu bazami danych,

Wzrost konkurencyjności i poprawa wyników finansowych, na którą wpływ mają wszystkie wymienione wyżej aspekty
Przykłady transformacji, dzięki którym firmy odpowiadają na preferencje klientów
IKEA pomaga dopasować produkty do pomieszczeń klientów
Przykładem, który obrazuje myślenie, ukierunkowane na pozytywne doświadczenie klienta łamiąc jednocześnie znane schematy działania, jest "cyfrowy" pomysł IKEA, a w zasadzie przejętej przez nią firmy Geomagical Labs.
Technologie cyfrowe w handlu detalicznym
Pomysł polega na udostępnieniu klientom aplikacji AR (z ang. Augmented reality — rozszerzona rzeczywistość), która umożliwia skanowanie swojego pomieszczenia, by następnie móc urządzić wnętrze trójwymiarowymi meblami. Ta idea to nie tylko digitalizacja procesu. To przede wszystkim próba rozwiązania problemu klienta przy użyciu cyfrowych rozwiązań.  Decydenci wzięli pod uwagę fakt, że odbiorcy najbardziej są zadowoleni nie tylko wtedy, gdy kupują ładne lub funkcjonalne meble. Prawdziwym wyzwaniem jest dopasowanie ich do swojego wnętrza. Ten przykład pokazuje ideę transformacji cyfrowej, która najlepsze efekty przynosi wówczas, gdy digitalizacja idzie w parze z myśleniem ukierunkowanym na potrzeby klienta. 

Lider branży lotniczej dostosowuje się do wymagań klientów również poza strefą lotu.
Cyfrowa transformacja pokazuje przedsiębiorstwom, że pozytywne doświadczenie klienta, jest niezwykle ważne na każdym punkcie styku z marką. Jeden z liderów branży lotniczej, przez lata bardzo umiejętnie dbał o najwyższy poziom obsługi klienta, ale…głównie w strefie lotu. W wyniku wdrożenia transformacji cyfrowej i poprzedzającej ją analizy poszczególnych procesów, w firmie nastąpiła zmiana kulturowa, w takim sensie, że przedsiębiorstwo dużo sprawniej zaczęło komunikować się z klientami również przed lotem i po jego zakończeniu.
Rozwiązania cyfrowe wykorzystywane do lepszej komunikacji oferty
Wprowadzenie nowych technologii pozwoliło liniom w łatwy sposób komunikować swoją ofertę, która stała się idealnie skrojona do preferencji klientów. Na podstawie przeglądanych kierunków podróży, przedstawiano pasażerom oferty specjalne, przygotowane właśnie dla tych miejsc.
nowoczesne technologie ułatwiające system rezerwacji i zamówień
Sam system zamówień również został usprawniony. Po przeprowadzonej transformacji cyfrowej organizacja zredukowała swoje nadmiernie rozbudowane biuro klienta na rzecz efektywnego systemu rezerwacji i zamówień. Zoptymalizowała w ten sposób koszty oraz zwiększyła wyniki sprzedaży.
dlaczego warto było przeprowadzić cyfrową transformację – czyli efekty dla linii lotniczych
Wymienione zmiany, to tylko kilka przykładów, w których punktem wyjścia była poprawa jakości obsługi klienta. W efekcie poszczególne procesy transformacji cyfrowej zagwarantowały optymalizację kosztów, poprawę wyników finansowych, wzrost poziomu satysfakcji klientów wyrażający się w wielu pozytywnych opiniach oraz większej lojalności.
Od czego rozpocząć transformację cyfrową przedsiębiorstwa?
Transformacja cyfrowa organizacji to złożone przedsięwzięcie. Podobnie jak w przypadku wszystkich dużych projektów, najważniejszy jest dobry plan działania, praca zespołowa i wiedza ekspercka. By mógł powstać dobry plan, niezbędna jest obiektywna analiza, która wyznaczy kierunek dalszych działań. Z uwagi na wielowątkowość całego zagadnienia, najlepszym pomysłem jest zwrócenie się do firm, które mają doświadczenie w cyfrowych optymalizacjach przedsiębiorstw.
Planujesz transformację cyfrową organizacji? — Digital Forms wspiera firmy w tym procesie. Skorzystaj z bezpłatnej konsultacji.
Profesjonalna firma, z bogatym doświadczeniem technologicznym oraz z wiedzą pozyskaną dzięki przeprowadzaniu trasnfromacji w wielu branżach, doskonale zorientuje się w tym jaki przebieg będzie dla firmy najbardziej korzystny, tak by przyniósł jak najszybsze efekty. Aby przeprowadzić udaną transformację cyfrową niezbędne jest przejście kilku kroków stanowiących bazę do wprowadzenia skutecznych rozwiązań. Przyjrzyjmy się im z bliksa:
Wprowadzenie — poznanie firmy i jej potrzeb
Eksperci zajmujący się transformacją cyfrową przedsiębiorstw zawsze w pierwszej kolejności weryfikują potrzeby firmy. Analizują trudności, poznają wyzwania, z którymi mierzy się zarówno dyrektor ds. finansów, marketingu czy magazynu i innych działów, jak i sami pracownicy. W tym celu przeprowadzane są warsztaty umożliwiające pozyskanie wszystkich niezbędnych informacji, dzięki którym ekspert poznaje specyfikę działalności.
Analiza — procesy wewnętrzne, dojrzałość cyfrowa, firma na tle branży
Na tym etapie specjaliści w zakresie transformacji cyfrowej weryfikują dojrzałość cyfrową organizacji. Badają poziom wykorzystywania technologii cyfrowej w poszczególnych procesach. Analizują poziom cyfryzacji branży. Podsumowując — wprowadzanie jakikolwiek zmian poprzedzane jest dokładną analizą wewnętrzną i zewnętrzną organizacji
Digital Touchpoints — porównanie z konkurencją
W całym procesie przemiany istotne jest również dogłębne poznanie punktów, które łączą firmę z konkurencją oraz wyróżniają ją na tle innych pod względem technologii informacyjnych. Można wówczas ocenić najważniejsze kierunki, jakie należy obrać w digitalizacji przedsiębiorstwa.
Konsultacje i wywiady
W tym punkcie szczegółowo poznaje się przedsiębiorstwo i stan wykorzystania oraz zrozumienia posiadanych technologii informacyjnych. Ponadto niezwykle ważne jest włączenie pracowników wszystkich działów w projekty transformacji cyfrowej. Tylko wówczas, gdy firma odpowiednio zadba o swoje zasoby ludzkie, przemiana firmy ma szanse na sukces.
Analiza SWOT — badanie dojrzałości cyfrowej
Analiza pozwala określić mocne i słabe strony digitalu organizacji, a przy tym dobrze obrazuje szanse i zagrożenia. To podstawa do określenia priorytetów, które pozwolą firmie wdrożyć skuteczne zmiany dające efekty w możliwie najkrótszym czasie.
Efekt działania, czyli plan implementacji
Profesjonalni partnerzy firm w procesie transformacji cyfrowej opracowują plan implementacji. To prezentacja najbardziej efektywnych rozwiązań cyfrowych dostosowanych do branży, w które firma powinna zainwestować. W odróżnieniu do sytuacji, w której przedsiębiorstwa samodzielnie decydują się na inwestycje w pojedyncze rozwiązania informatyczne, plan implementacji zakłada systemowe rozwiązania precyzyjnie dopasowane do potrzeb organizacji. Dzięki temu firma unika ponoszenia nadmiernych kosztów, a inwestycja szybko przynosi pozytywne wyniki finansowe.
Transformacja cyfrowa — korzyści, których nie będziesz chciał zwrócić
W rzeczywistości transformacja cyfrowa to nie tylko nowe technologie. To zmiana sposobu działania, a przede wszystkim myślenia, a to z kolei sprawia, że firma jest nastawiona na nieustanną optymalizację procesu, gotowość do zmian i działanie z jasno określonym celem oraz ukierunkowaniem na klienta. To, jak wiele zmian wnosi transformacja cyfrowa, dobrze pokazuje zadanie przygotowane dla uczestników maratonu projektowania: Hackathon HackYeah. Fragment zadania brzmi następująco: […] wyprowadź nasze elektroniczne listy w świat bez internetu (offline). Włóż miliony plików do torby listonosza, sprawdź, czy wszystkie się zmieszczą. Daje do myślenia, prawda?